Who we are
Join Us as We Explore the Mangroves at Night
Welcome to Night Kayaking Key West. We are glad you are here! We are the only night kayaking company offering a one-of-a-kind experience into the amazing mangrove tunnels of the Florida Keys. Our clear bottom kayaks are outfitted with bright LED lights that illuminate the abundant marine life under you. We are happy to call Key West home, and we've been leading people on tours here since 2012.
Our fun, knowledgeable guides will lead you through the calm water, pointing out the nocturnal species along the way. To see the glowing lights as you paddle through crystal clear water is a unique experience you will never forget, and we want to share that with you. Let us show you the brilliant underwater life of the Florida Keys in a way you have never seen before.
Explore Adventure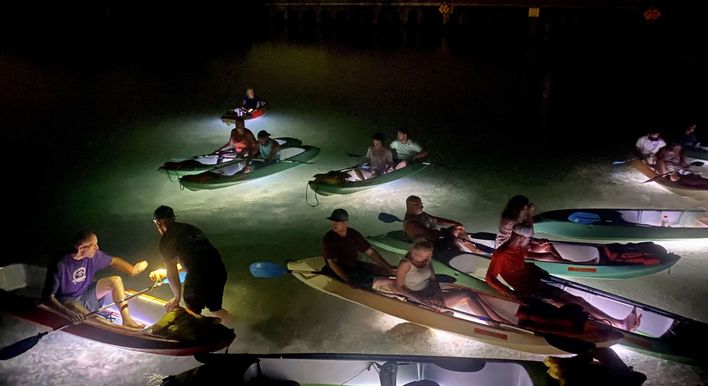 Duration
1 hour 30 minutes
Get a single or double glass-bottom kayak illuminated with lights and follow our tour guide on this one of a kind, unforgettable and simply magical adventure.
This slow paced, immersive, and very relaxing experience will allow you to see some cool, active at night marine life as you are gliding through crystal clear waters of Key West.
Guests will experience going through narrow mangrove tunnels at night, floating around shallow and calm waters as the tour guide will look for interesting critters for everyone to see.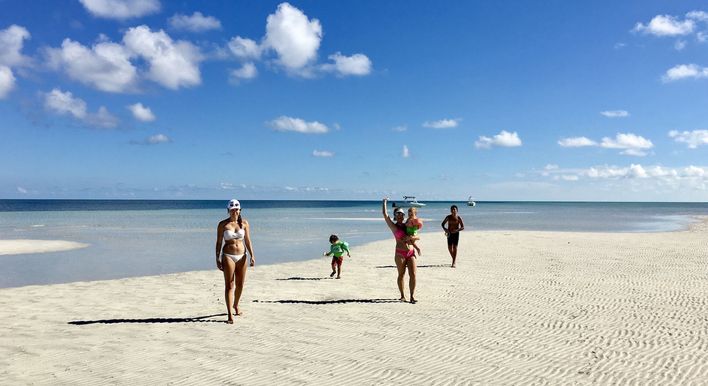 Key West sandbars are our local well kept secret. This is where we take our families to hang out and relax on our days off. This is the perk of our island lifestyle. Now we want to share this experience with you.
Turquoise shallow waters, epic picture worthy sights all around you that look like a postcard - that is what you're signing up for!
Come Explore the Nightlife in Key West.
Let's explore a different kind of nightlife, as seen on a Night Kayak Key West tour, and leave the details to us! We have planned a magical experience with well-prepared equipment and highly trained guides. Our local guides know this area well, and they will take you on a night kayak tour of those out of the way, hidden spots to experience the nocturnal marine life of the Keys. This will be an unforgettable experience, which is sure to be the highlight of any trip to Key West.
Unique Experience
After sunset our bright LED lights will illuminate everything under you, and with the glass bottom, you'll feel like you're kayaking in an aquarium.
Local
We are family-owned and operated and know all of the best places for these tours and experiences.  You will be guided by some of the best and most experienced guides around!
Quality
From the training of the teachers to the equipment and communication, we've done all the planning and preparation required to ensure that you have a top-notch experience.
Location
Key West Like Never Before
A trip to Florida would not be complete without visiting this southernmost point in the continental United States. While you are here, you are actually closer to Havana, Cuba, than Miami, and Cuban food is featured prominently on many menus. Plan to try foods inspired by the flavors of the Caribbean, including conch fritters, pink shrimp, stone crab, hogfish. Be sure to leave room for dessert, as this is the home of the famous Key lime pie! Underwater enthusiasts come to visit the world's third-largest living coral reef. The reef extends as far as Miami to the north and the Dry Tortugas National Park to the west. Throughout the Keys, there is an abundant variety of sea life, including colorful fish, manatees, bottlenose dolphins, sea sponges, turtles and so much more. Visitors will enjoy the laid-back lifestyle. Activities include water sports, visiting historic sites and lounging on picturesque white-sand beaches. The unique architecture of the conch-style houses was first developed here in Key West.
Frequently asked questions
Most frequent questions and answers
Recent news
The Florida Keys is the closest you can get to an island paradise in the continental United States. There are countless white sand beaches, mangrove forests, and natural habitats to explore while visiting the Key West islands. From wildlife excursions…
Let's make some waves and dive into what Key West has to offer for an epic girls' trip! Located in the mesmerizing Florida Keys archipelago, this makes the perfect place for a girl's weekend getaway. The gang will go from…
Key West, an island destination off the coast of South Florida in the Florida Keys, is a special place famous for its whimsical community, colorful locals, rich history, and a multitude of wonderful and exciting activities for visitors. Not only…