Are you interested in driving from Miami to Key West? We offer plenty of great ideas for your Key West road trip. As you navigate the scenic Overseas Highway in South Florida, you will see plenty of natural and urban attractions. Here are seven destinations to explore in the lower keys and upper keys for your personalized Key West drive.
A tour we think you'll love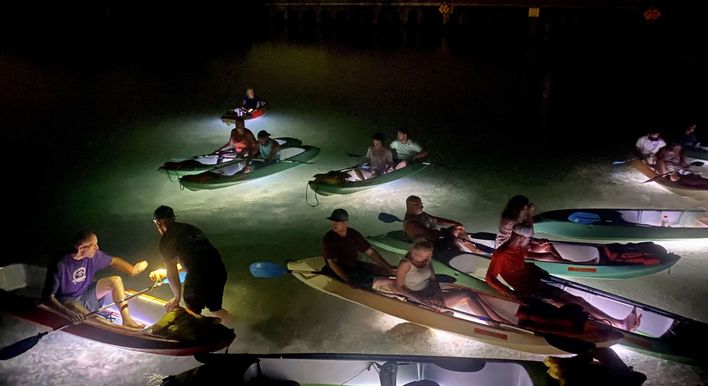 Night Kayak Guided Tour
From $60
View tour
1) Everglades National Park
When taking a road trip from Miami to Key West, you should incorporate Everglades National Park into your itinerary. As the beginning points for your Key West Drive, Route 1 and State Road 9336 will lead you directly to the iconic national park.
You'll find plenty of fascinating stops along the way for this Key West road trip. Be sure to stop at the Ernest F. Coe Visitor Center en route to the park. You can also check out the HM69 Nike Missile Base and Long Pine Key Nature Trail along the way.
When kicking off your road trip to the Florida Keys, you should be aware of some other highlights of the famous national park:
Largest subtropical wilderness in the United States with more than 1.5 million acres

World Heritage Site

Guided airboat tours and eco tours

Ranger-guided tours by foot

Flamingo Visitor Center, Shark Valley Visitor Center, and Gulf Coast Visitor Center

Alligators, manatees, herons, and other native wildlife

Mangroves, swamps, and other unique wetlands
2) Key Largo
As you continue your Miami to Key West drive, you should surely check out Key Largo. Part of the Upper Keys, this community is home to several prominent natural attractions. You can enjoy some hiking on scenic trails at the Dagny Johnson Key Largo Hammock Botanical State Park.
If you drive farther down the Overseas Highway in Key Largo, you will run into the John Pennekamp Coral Reef State Park, which has one of the state's most beautiful coral reefs. Likewise, the Florida Keys National Marine Sanctuary is one of the top attractions in Key Largo.
When taking a Key West road trip through this community, be sure to check out some other must-see destinations. For instance, Harry Harris Beach and Park is one of the largest public beaches in the entire Florida Keys. A Florida road trip through this key should lead you to aura Quinn Wild Bird Sanctuary, which is home to an array of native and migrating birds. As a major stopping point for a road trip to Key West, this particular community is home to several resorts and inns just off the Overseas Highway.
Pay close attention to each mile marker leading to this large community in the upper section of the Florida Keys. In fact, the Florida Keys Visitor Center – Key Largo Chamber of Commerce might be your most helpful resource for finding great food, lodging, and other travel-related information.
3) Islamorada
Consisting of six distinctive keys, Islamorada is another major destination for a trip between Miami to Key West. Of course, the iconic Overseas Highway passes through the heart of all islands in this quaint community. As a major hub for off-shore charter fishing, the area naturally has plenty of marinas and other related facilities.
There is also a large concentration of restaurants, bars, and shops along the Overseas Highway that links all six keys in Islamorada. As you gradually complete your Florida Keys road trip, be sure to check out the following parts of Islamorada:
Florida Keys Brewing Company – Historic microbrewery with a large selection of craft beer

Founders Park – An urban park with sports facilities overlooking scenic Cotton Key Basin

Windley Key Fossil Reef Geological State Park – Remains of a former quarry used to build the Overseas Railroad with funding from Henry Flagler

History of Diving Museum – Educational exhibits on diving and water sports for kids and adults

Theater of the Sea – Featuring dolphin and sea lion shows

Lignumvitae Key Botanical State Park – Ideal for kayaking, paddling, and water sports
4) Curry Hammock State Park
Situated on mile marker 56 for a road trip from Miami to Key West, Curry Hammock State Park is a true paradise. This quiet park overlooks the shallow turquoise water of the Atlantic Ocean. From kayaking and fishing to hiking and picnicking, the state park offers lots of fun outdoor activities en route to a Key West drive.
When you stop at the park during a road trip, you won't see a whole lot of residential or commercial developments. This green space is actually located on an uninhabited island. Therefore, the local animals take refuge in the mangroves and other protected habitats at the park. Spanning approximately 1.5 miles, the main nature trail at the state park also provides plenty of shade against the blazing sun on a hot afternoon.
After relaxing and recharging at this waterfront park, you could confidently continue your Florida Keys road trip.
5) Marathon
Located roughly halfway between a drive from Miami to Key West, Marathon is another notable destination for tourists. Consisting of several keys, the community is home to lots of quaint inns, hotels, and other lodging venues with family-friendly amenities.
You'll also find some of the finest dining options in the entire Florida Keys at the Marathon Key area. When planning your Florida Keys road trip, be sure to check out the lodging choices on the Gulf of Mexico and Atlantic Ocean sides of Marathon. You can find a spacious suite or cozy multi-bedroom home for rent for your Key West drive.
In fact, the iconic Seven Mile Bridge roughly marks a good stopping point for an overnight stay. Here are some other top highlights of Marathon:
Major destination for anglers

The thriving fishing industry with a large selection of locally caught lobster and stone crab

More than 1,200 wet slips and other marina facilities

Home to Florida Keys Marathon International Airport

Florida Keys Aquarium Encounters with interactive activities for visitors

Cocoa Plum Beach and Sombrero Beach open to the public
6) Bahia Honda State Park
Located on the southwestern end of the legendary Seven Mile Bridge, Bahia Honda State Park is one of the most popular sightseeing points for your trip from Miami to Key West. Home to lush palm trees and crystal-clear turquoise water, the state park is a true paradise for tourists in the Florida Keys.
Mile marker 37 roughly defines the western end of the famous park for your road trip. You can even rent kayaks and snorkeling gear directly at the waterfront park. Here are some other fascinating insights on this state park for your Key West road trip:
Uninhabited island covering 524 acres

Perfect for viewing sunsets and gazing at stars

Buttonwood Campground, Sandspur Campground, and other campgrounds

Scenic hiking on the Old Bahia Honda Bridge

Home to wading birds, bottlenose dolphins, and sea turtles

Loggerhead Beach, Calusa Beach and Sandspur Beach

Multiple cabins available for rent
7) Big Pine Key
As you almost complete your excursion from Miami to Key West by car, you should stop at the Lower Keys. In fact, Big Pine Key is one of the largest and most developed communities in the region. The community is located approximately between mile marker 29 and mile marker 33 for your Key West road trip.
From gas stations and grocery stores to banks and restaurants, Big Pine Key has plenty of commercial businesses for your needs during a Key West drive. Here are some attractions on the island:
Big Pine Key Park

Horseshoe Beach

Long Beach

National Key Deer Refuge Nature Center

Pine Channel Nature Park

Blue Hole Observation Platform
Save The Best For Last At Key West
As you approach the final destination of a trip from Miami to Key West, you will see plenty of amazing attractions. Your Key West road trip will end in one of the most popular tourist destinations of South Florida.
From historic sites and quaint beaches to charming hotels and vibrant entertainment venues, the island has plenty of great amenities. You can even rent premium cottages on the small Sunset Key island, which is only accessible by boat.
When you finally reach Key West, start exploring the following sites and activities:
The Southernmost Point in the continental United States

South Beach and Smathers Beach

Bars, shops, restaurants, and entertainment venues on Duval Street

Authentic Key Lime pie from local businesses

Key West Aquarium

Museums, street performers, and shops at Mallory Square

Ferry to Dry Tortugas National Park
You could end your Key West drive with some fun activities, such as kayaking on the local shallow water. Key West Paddle offers unique kayaking tours at night. You can get on a special kayak with an illuminated bottom for great visibility of the surroundings.
The Night Kayak Tour allows you to explore the local mangroves and other beautiful landscapes at a slow pace.
Book your night kayaking tour in Key West today!
---