Do you and your significant other long for a fun, exciting, and exotic vacation? The place to go is Key West, set in the Florida Keys. Key West is perfect for a romantic getaway because of its shallow, clear waters, pristine beaches, the abundance of exciting attractions, and exciting nightlife. Key West is the destination of choice if you want to unwind at a spa or have an exciting ocean-based adventure.
A tour we think you'll love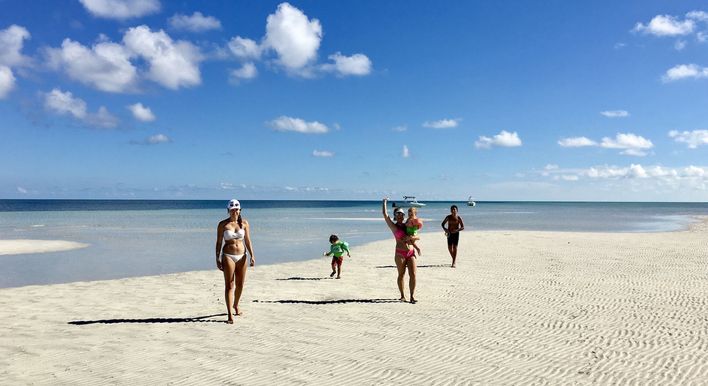 Key West Sandbar Trip
From $550
View tour
Since the 1800s, Key West has been a popular destination for tourists and partygoers alike. There are plenty of activities for couples to enjoy on the island itself, and with travel restrictions to Cuba recently lifted, couples also have the option of accessing all kinds of fun from both locations. You and your significant other will find a wide range of activities to partake in throughout Key West, and you're sure to find an authentic slice of Key Lime pie in the process. To learn more on the things to do in Key West for couples, read on.
The Best Things To Do In Key West For Couples
1) Kayaking At Night
You might be surprised to learn that the most spectacular marine life in the Florida Keys is most active during the nighttime hours. Take your special someone on a romantic nighttime kayaking trip to see them all! In a single or double glass-bottom kayak, you'll paddle through mangrove tunnels and over crystal-clear waters.
The lights from the boats cast a magical glow on the ground, allowing you to observe the action below. Some sea turtles may even make an appearance. Tourists are led skillfully through Key West's natural surroundings on placid waters by knowledgeable tour guides who point out the interesting and unusual sea life of Key West.
2) Shopping – Mallory Square And Duval Street
Mallory Square and Duval Street offer shopping experiences unlike any other in Key West, as any local will tell you. Shopping options for visitors range from high-end department stores to one-of-a-kind boutique shops selling unique trinkets. Live street music and street performers make Duval Street and the surrounding area come alive in the evenings. These are some of the best places to go shopping in Key West if you're looking for authentic, one-of-a-kind souvenirs.
3) Cuban And Island Cuisine
The cuisine in Key West is something that visitors should not miss. Because of its proximity to Cuba, Key West and the Florida Keys provide visitors with an authentic Cuban experience without the hassle of traveling there.
El Meson de Pepe in Mallory Square serves its signature dish, Picadillo Habanero, and features live music nightly. Ana's Cuban Cafe serves up delicious Cuban coffee, and Kim's Kuban offers authentic Cuban street food at a more wallet-friendly price.
Key West food also blends several different styles, so explore and discover what unique tastes you might find!
4) Beaches
Without spending some time (preferably both day and night) on the beach, a trip to Key West is not complete. When it comes to Florida beaches, Key West has some of the best and cleanest beaches. You can even escape the crowds of beachgoers and spend intimate time together by heading out to a sandbar.
Smathers Beach is the most popular tourist destination in Key West, according to Key West locals. It is a great place to walk, and there are plenty of places to eat and rent water sports equipment. The shallow waters are great for strolling along, but parking is not free here. Smathers Beach is certainly worth a visit for a day on Key West beaches, but if you're looking for a tranquil day at the beach, Higgs Memorial Beach Park may be a better option.
Higgs Beach has showers, rentable lounge chairs, and free parking. But history buffs should also visit the on-site African refugee cemetery and Civil War-era fort.
Additionally, Rest Beach is great for couples because it is small, has yoga classes and shady areas, and has free parking.
Even further south, at the end of Duval Street, is South Beach, on the southernmost point, which is another viable option for those looking to be close to all that Key West has to offer on foot.
5) Ernest Hemingway House
Ernest Hemingway, Nobel Prize-winning author and eccentric, spent the majority of his life in Key West. The Spanish Colonial home and museum on Whitehead St. was constructed in 1851 and features guided tours, as well as grounds and gardens where visitors can sit and enjoy each other's company.
When Hemingway was at the height of his literary success in the early 20th century, he resided in the now-famous Key West house that has since become an icon of the city. Famous "Hemingway cats," a colony of 6-toed felines descended from Hemingway's own pet who passed the genetic mutation to his offspring, freely roam the property alongside artifacts from the author's life such as his hunting trophies from Africa and the first in-ground pool in Key West.
6) Key West Lighthouse
One of the oldest surviving American lighthouses is the Key West Lighthouse and Keeper's Quarters Museum, which was built in 1825. When Michael Mabrity, the previous lightkeeper, passed away in 1832, his widow, Barbara, became one of the first women in the United States to hold the position of a lightkeeper. Once the Key West Arts and Historical Society learned that the lighthouse would no longer be needed after it was deactivated in 1969, they made plans to purchase the building.
Artifacts from the Great Havana Hurricane of 1846 are on display alongside other nautical relics from the museum's long history of use. Visitors rave about the breathtaking panoramas from the tower's observation deck and the excellent selection of local Key West artwork in the gift shop.
7) Old Town Key West
The Old Town Key West historic district is a great place to begin your exploration if learning about the area's past is a priority for you. Many of Key West's must-see attractions are within walking distance from the area's hotels all the way down to the southernmost point, and the region is a hotspot for romantic activities.
The Key West Aquarium, the Ernest Hemmingway House, the Key West Heritage House Museum, the Robert Frost Cottage, the Key West Lighthouse, Mallory Square, the Harry S. Truman Little White House, and the Audubon House and Tropical Gardens are just a few of the more than 180 historic buildings that can be found within this 4,000-acre area.
Florida's most stunning and historic architecture is found here, along with a wide variety of restaurants, Key Lime pie bakeries, and retail establishments.
8) Key West Butterfly And Nature Conservatory
More than sixty species of butterflies, including the critically endangered monarch, make their home in the greenhouse park and habitat at the Key West Butterfly and Nature Conservatory. The indoor conservatory features flowering plants, trees, and even waterfalls for guests to enjoy. Many areas have abundant butterfly populations, and you can even spot butterfly-friendly birds like flamingos.
Visitors can observe the metamorphosis of caterpillars into butterflies in a real-life "hatchery" and take part in educational programs about the various species of butterflies found on the property. For visitors who want to share the experience, friends and family back home can view some areas of the conservatory on the live cam online.
9) Key Lime Pie Bakery
If you've never had a Key Lime pie, you can't leave the island without trying it at least once! This delicious confection made with condensed milk and Key Lime juice is tart and sweet and made from region-specific limes found growing in the area in the late 1800s.
Legend has it that the now-famous pie was invented in Key West, and if you want to try one, the best place to do so is at the Key Lime Pie Bakery. This photogenic shop sells pies in several different formats, including the traditional slice, chocolate-dipped, and pops on a stick, all of which are sure to be hits with romantics. In addition to the pies, the store sells pie concentrates and mixes so customers can bake their own at home.
10) Water Activities
What tropical paradise is complete without water activities? For those who enjoy water sports, Key West has you covered. Key West local businesses cater to the adventurous by providing waterskiing, jet skiing, jet ski tours, parasailing, dinner cruises, dolphin watching, kayaking, scuba diving, and coral reef snorkeling. For a romantic day on the water, couples can either join a sunset sail tour or rent their own boat. Visiting Key West should include at least one adventure out on the water!
11) Botanical Gardens
The Butterfly Conservatory is not the only garden on the island. The Key West Tropical Forest & Botanical Garden is a beautiful arboretum filled with native trees, shrubs, and palms. It boasts that it is the only frost-free botanical garden in the USA. Pathways of carefully cultivated plants are set against the lush, tropical vegetation of Florida. In addition to the natural beauty of the property, it also has art from several local artists.
12) Open Air Bars
Key West has a wide selection of open-air bars perfect for couples looking to enjoy the nightlife or simply take in some fresh air while enjoying a tropical drink. Enjoy the beautiful Key West sunset from the Garden of Eden rooftop bar or watch boats leave and arrive at the Schooner Warf bar. The Bull & Whistle Bar, one of the few remaining open-air street bars in Key West, regularly hosts live music and drink specials.
13) Drag Shows
Key West has gained a reputation in recent years as the place to go to see high-quality drag shows. Couples on a romantic vacation looking for a night out will have their pick of the cabaret Aqua or the wildly popular Shoe Drop. LaTeDa is Key West's most lavishly produced drag show, thanks to the popularity of Chris Peterson's long-running show "Eyecons" and Randy Roberts' cabaret.
Get Started With Key West Paddle
If you're heading to Key West soon and are curious as to where to start for your couples-only excursion, look no further than Key West Paddle. Offering magical nighttime kayaking adventures, as well as a host of other services, customers can expect to enjoy marine life at night, as well as the beautiful mangrove forests and tunnels of the island's natural environment.
Summing It All Up
Everything a couple could want is available in Key West. There's something for everyone, whether they prefer high-energy Key West nightlife, fine dining, or a quiet evening. Make sure to ask locals for their recommendations on romantic things to do in Key West, as many of the best activities for couples aren't listed in any tourist guide.
You should look for Florida and Key West honeymoon packages on the travel website you prefer. The Florida Keys have a rich history that dates back to long before the Spanish explorers arrived. Key West is the perfect place for a romantic getaway in the Florida Keys, with breathtaking sunsets, delicious Key Lime Pie, and plenty of opportunities for making unforgettable memories with your loved one.
Call Key West Paddle right now to arrange your own exciting excursions for your upcoming trip to Key West.
---