Key West has a thriving tropical ecosystem full of tropical fish and abundant marine life that find their home in the crystal clear waters of the Keys. Key West eco tours are some of the best ways to experience marine life for yourself without leaving much of a footprint behind.
On a kayak tour of the mangroves, you can see many colorful fish and other creatures using the most responsible methods imaginable, so you don't have to worry about disturbing their delicate ecosystem.
A tour we think you'll love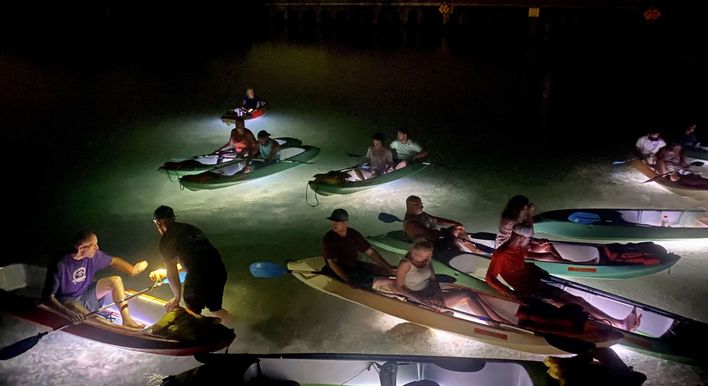 Night Kayak Guided Tour
From $60
View tour
Stick around to find out how your kayaking adventure in Key West can be the most memorable vacation of your life.
Enjoy Moonlit Key West Eco Tours While Kayaking In The Mangroves
If you want to go mangrove kayaking in Key West, you won't find a better place to book your kayak tour than with us here at Night Kayak Key West. We offer single and double kayaks made of plexi glass and equipped with LED lights so you can see the sea life as you glide through the illuminated waters of Key West after sunset.
Our Key West kayak excursions are slow-paced and offer an immersive experience as you make your way through the winding mangrove creeks in the dark. We send you out with local nature guides who are happy to trek through the water to point out elusive nocturnal marine life and teach you all about the local wildlife you encounter.
Before finalizing your trip to the Key West mangroves, be sure to contact us in advance to book your preferred kayak tour with our professional guides.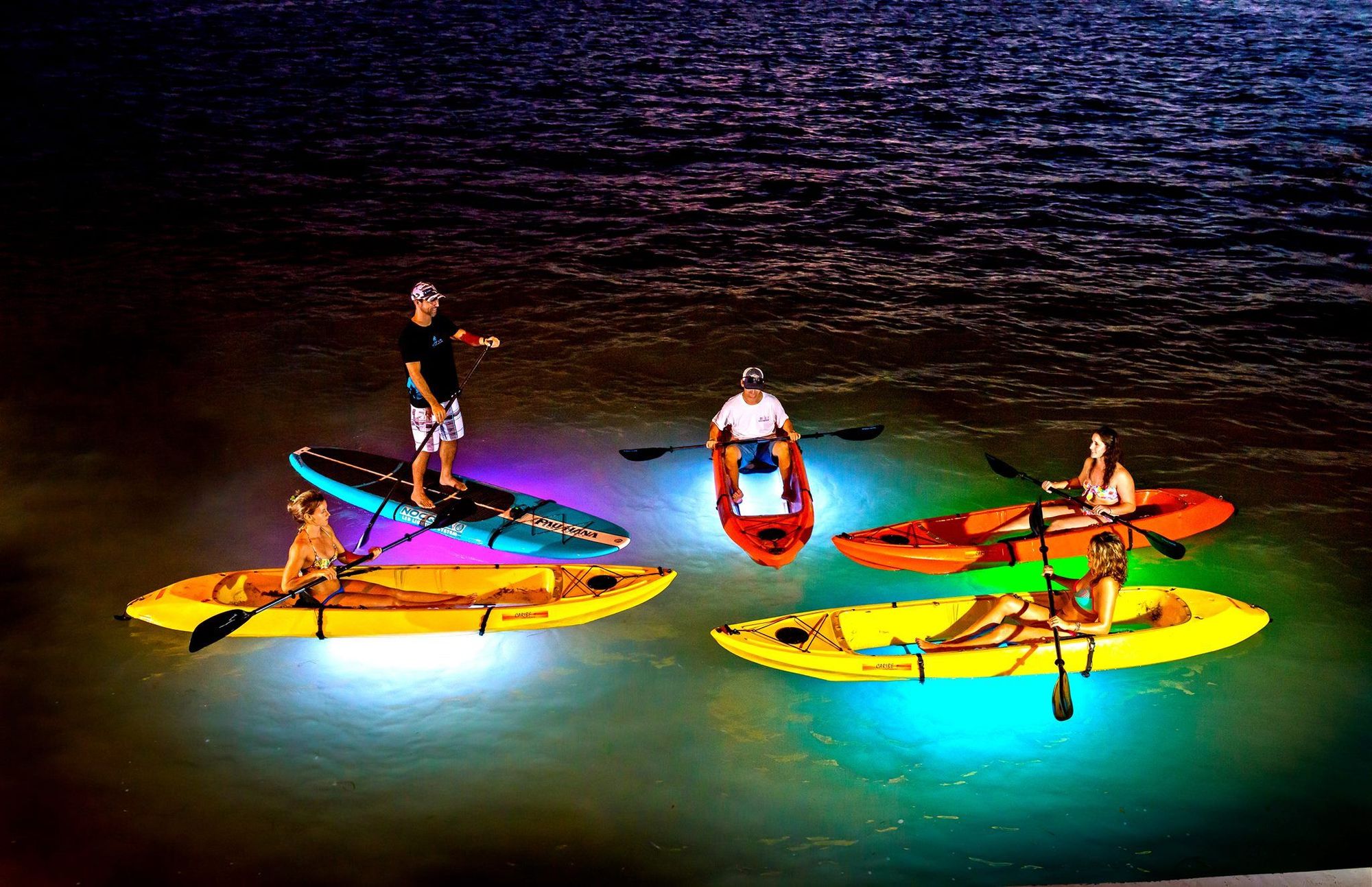 Travel Tips For Your Trip To Key West
Key West is one of the most sought-after vacation destinations in the United States, so we have some tips and tricks to make your vacation a fun experience! The first thing to remember when planning your vacation is that Key West can be an expensive destination. You should plan to have at least $175 a night for your accommodations and at least $15 a person for every meal you plan on having.
You can save a bit when budgeting for your trip by planning to arrive in Key West during the shoulder season between April and June. Not only will prices be slightly more affordable, but you'll have lesser crowds to deal with as you explore the islands. You also won't have to worry about hurricane season if you come to Key West during the shoulder season.
Besides Key West eco tours, one of the experiences you can't miss when traveling to Key West is driving on the Overseas Highway! There are 42 total bridges connecting Florida's mainland to the Key West islands, and you won't find a more breathtaking view of the water than from this extensive strip of highway.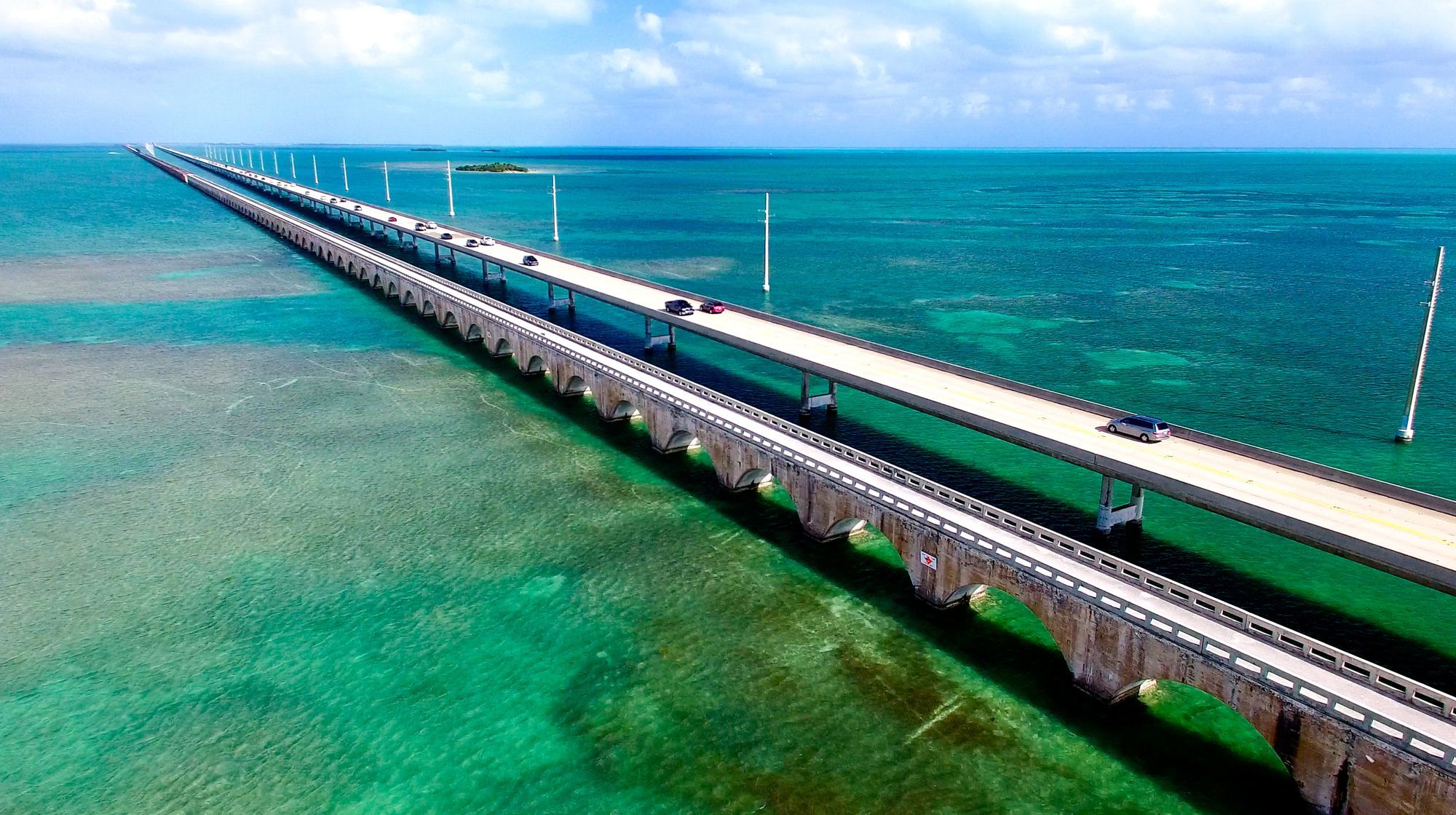 How To Master The Art Of Kayaking In Key West
Kayaking may seem like a simple way to navigate the water, but we have a few tips and tricks to ensure you have the most seamless Key West kayak experience imaginable. First, you'll want to make sure you're seated in the kayak properly. For the most comfortable ride, make sure your backside is all the way to the back of the seat and that your knees are slightly bent. If you keep your legs straight with locked knees, you're going to have a sore back afterward!
You also want to hold the paddle properly. Your elbows should be high and straight, and your hands should be positioned slightly wider than the width of your shoulders for the best possible rowing experience. Next, be sure you're stroking your paddle through the water evenly on both sides. The blade of the paddle should enter the water near your feet and work along the kayak in a parallel line to your hips as you pull it through the water.
As long as you keep your strokes even and hold the paddle properly, you should have no problem staying in a straight line and navigating the water smoothly as you go mangrove kayaking in Key West. You can also ensure a seamless experience by booking your tour in advance with a professional tour guide who can show you the ropes.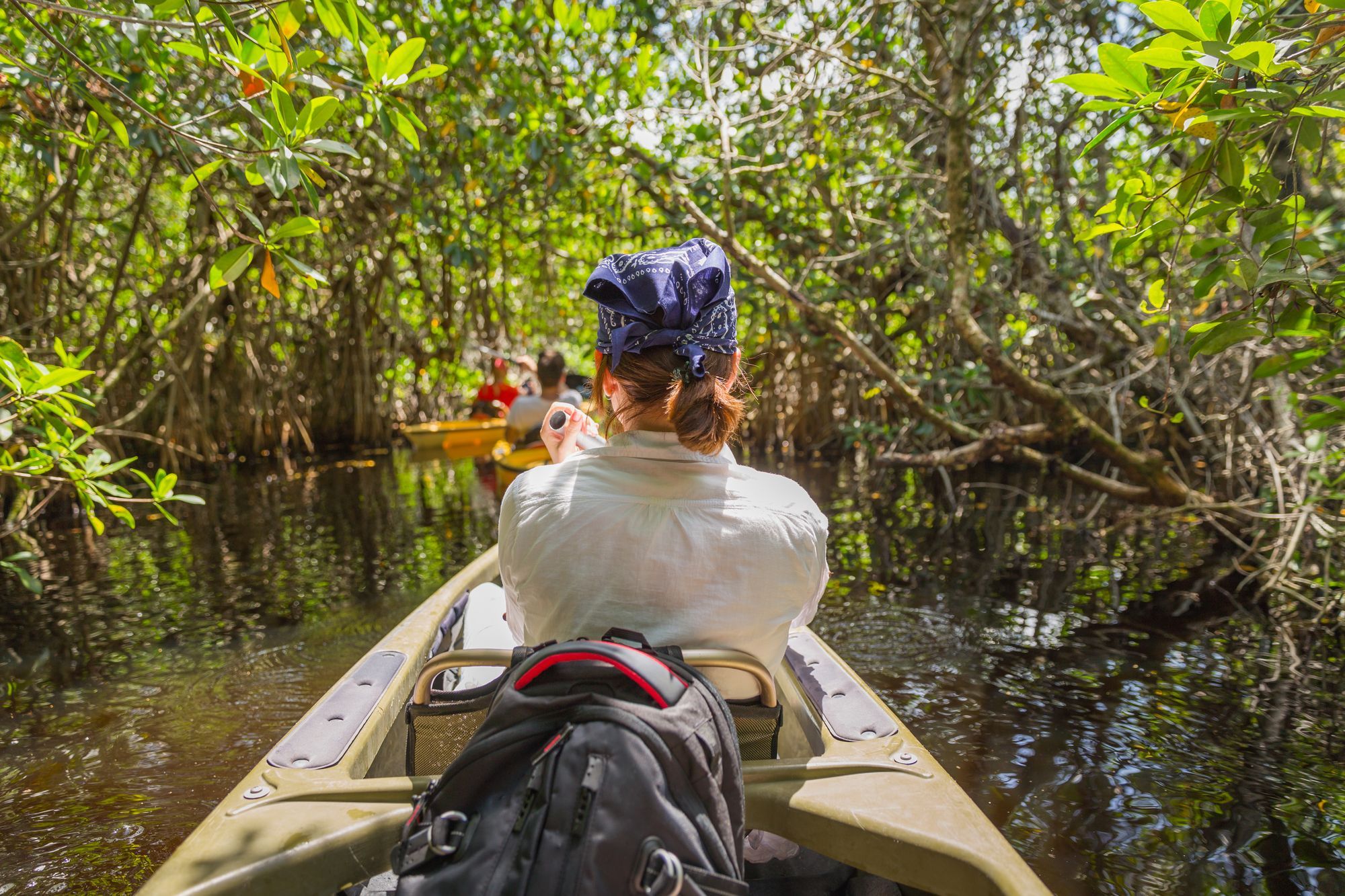 How To Plan Your Kayaking Adventure To The Mangroves In Key West
There are tons of locations all around the Key West Historic Seaport to rent kayaks if you don't have your own to explore the mangrove islands of Key West. Once you've found a kayak tour or rental location in Key West that you like, now it's time to plan the rest of your day.
Head to Hurricane Hole Marina on Stock Island for a dining experience you won't want to miss. Enjoy the fresh air by the water as you dine, and then head to your night kayak tour of the massive 189,000-acre Key West Wildlife Refuge, where marine life and the last living barrier reef in the Continental U.S. awaits.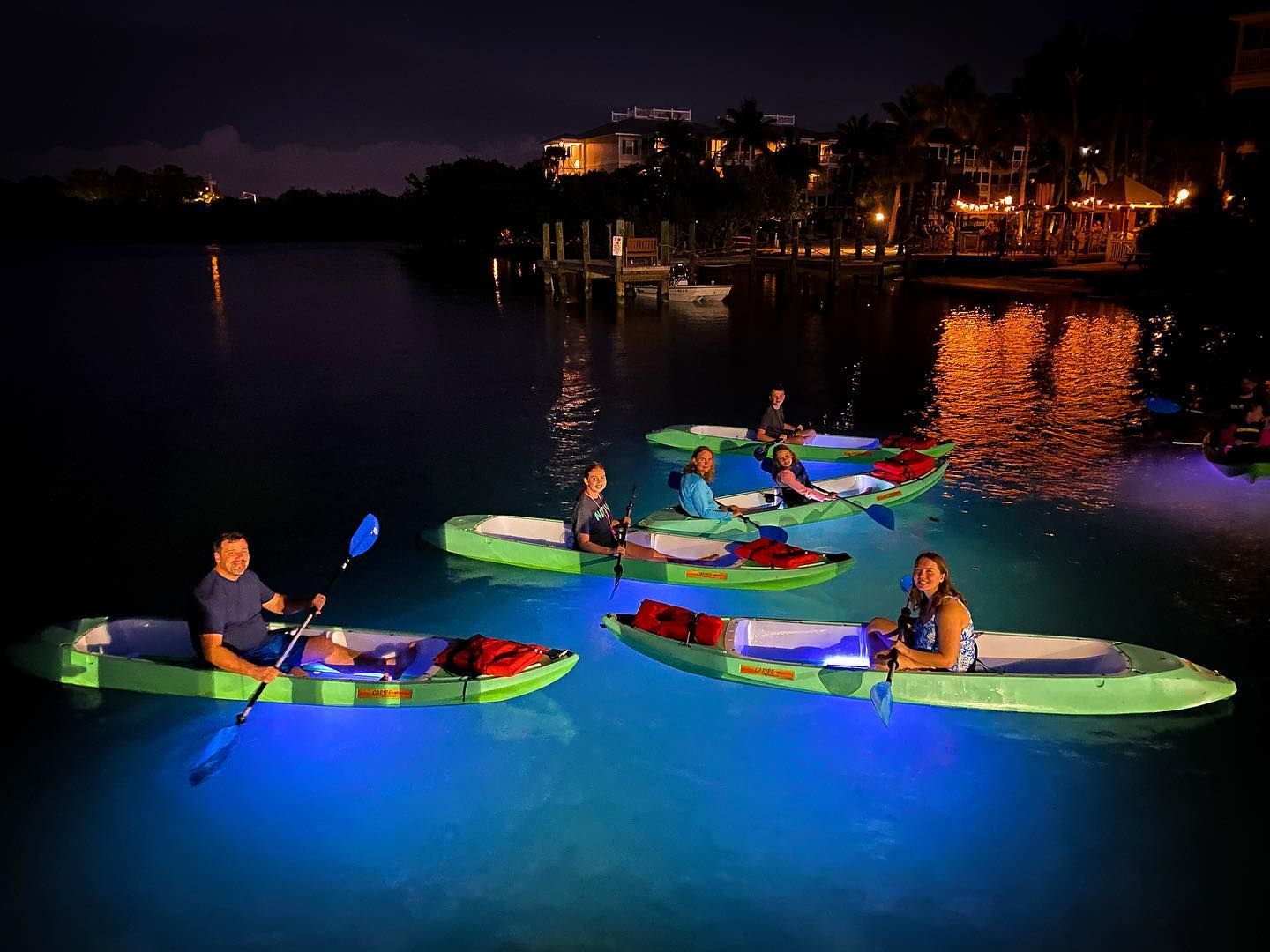 Things To Know About The Mangroves Of Key West
The mangrove islands make up a crucial part of the geological structure of the Keys and provide a safe haven for marine life like sea cucumbers, sea stars, and countless tropical fish. Mangroves provide food for fish like tarpons, mullets, and snappers and are the perfect breeding ground for many of the tropical fish in the ocean today.
Many sea birds use the dense mangrove tunnels to construct their nests, and creatures like sea stars, sea cucumbers, and other marine life find their homes among the thick underwater root systems of the mangrove islands. These root systems not only provide a thriving ecosystem for marine life, but they also stabilize the shoreline and protect against tsunamis, hurricanes, and erosion.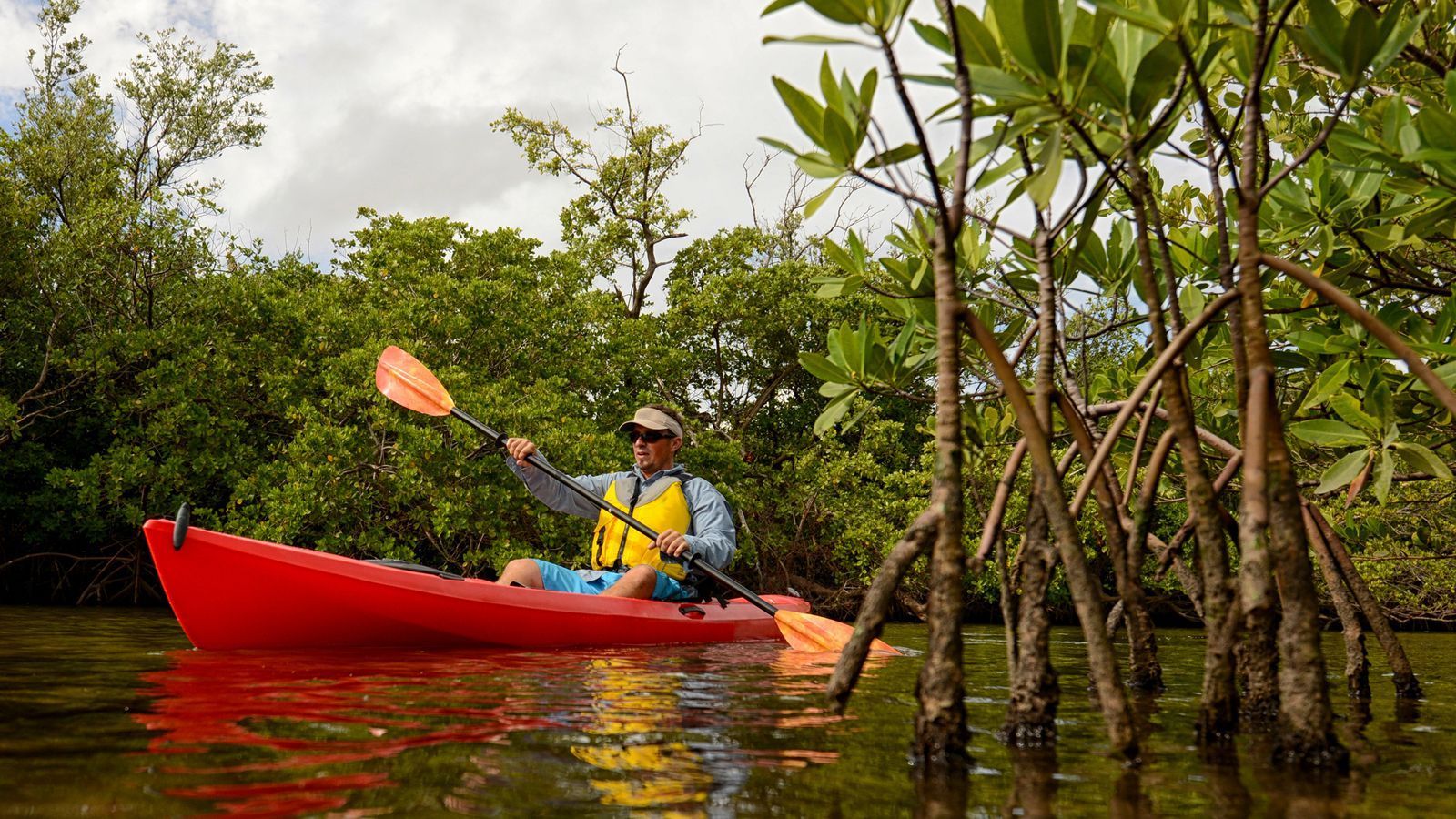 What To Expect On Our Tours Of Key West
We always provide an educational, fun experience as we take our guests out to the waters at night. You'll glide through a mangrove tunnel or two and search the waters for creatures like sea turtles, tropical fish, manatees, and more.
Our single kayaks have a weight limit of 250 pounds, and a double kayak has a weight limit of 350 pounds between two people. You can bring children four years and older along for a tour of the mangroves, but they must ride with a parent in a double kayak.
You won't need bug spray as the insects aren't as bad as you might think when gliding through the mangroves, but you can bring a beverage to refresh yourself as long as it's alcohol-free.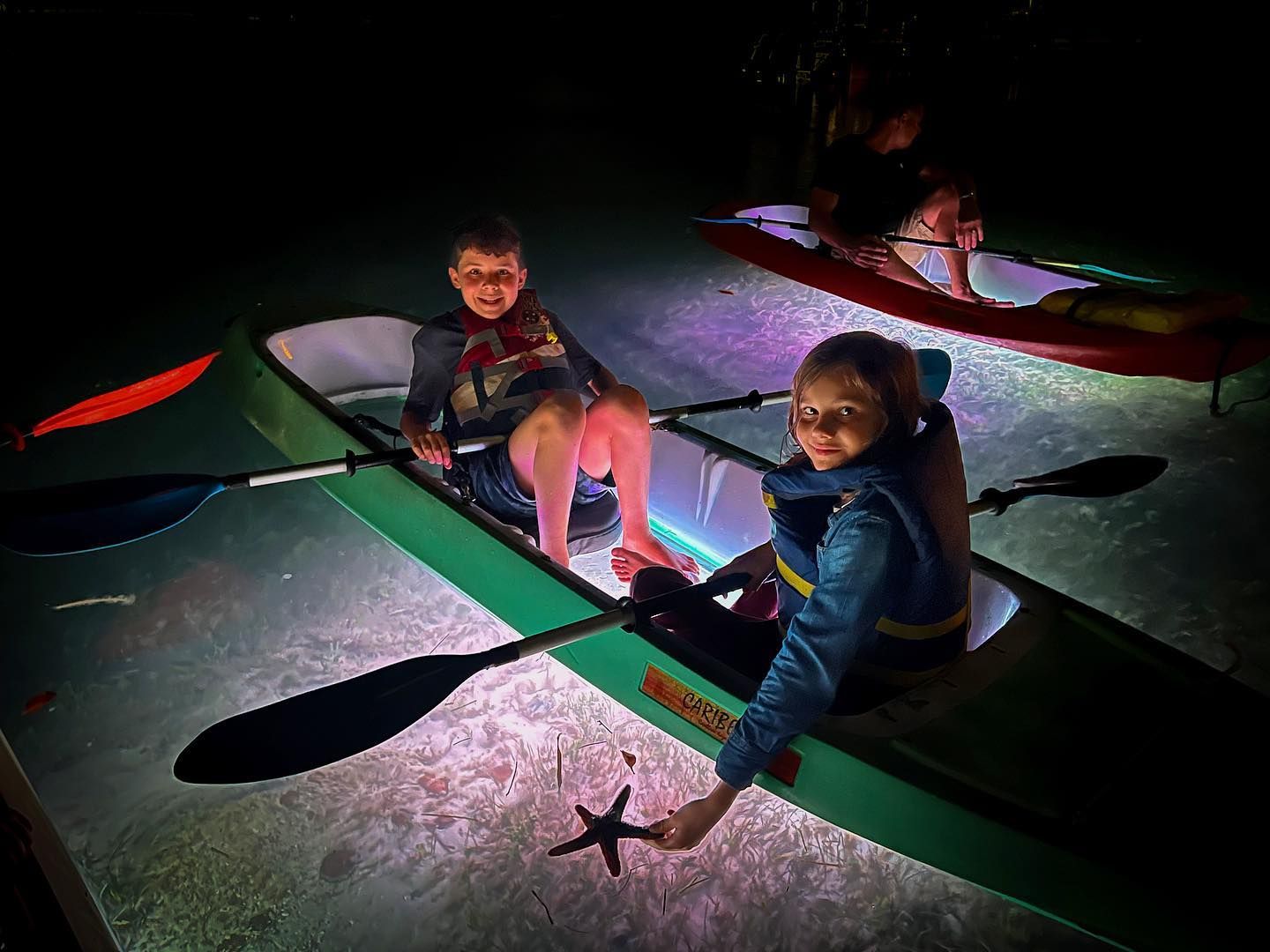 The Benefits Of Our Key West Mangroves Tours
Because our Key West kayak excursions are led by experienced local guides, you never have to worry about finding your way in the dark mangrove tunnels. All you have to do is sit back, search the waters for sea critters, and follow your guide.
Our tours are some of the only LED-lit, glass-bottom kayak experiences in Key West, so you're far more likely to see the wildlife you're looking for than in a standard kayak. There are only as many as 12 kayaks on any tour, so it's always an intimate experience regardless of who is in the party.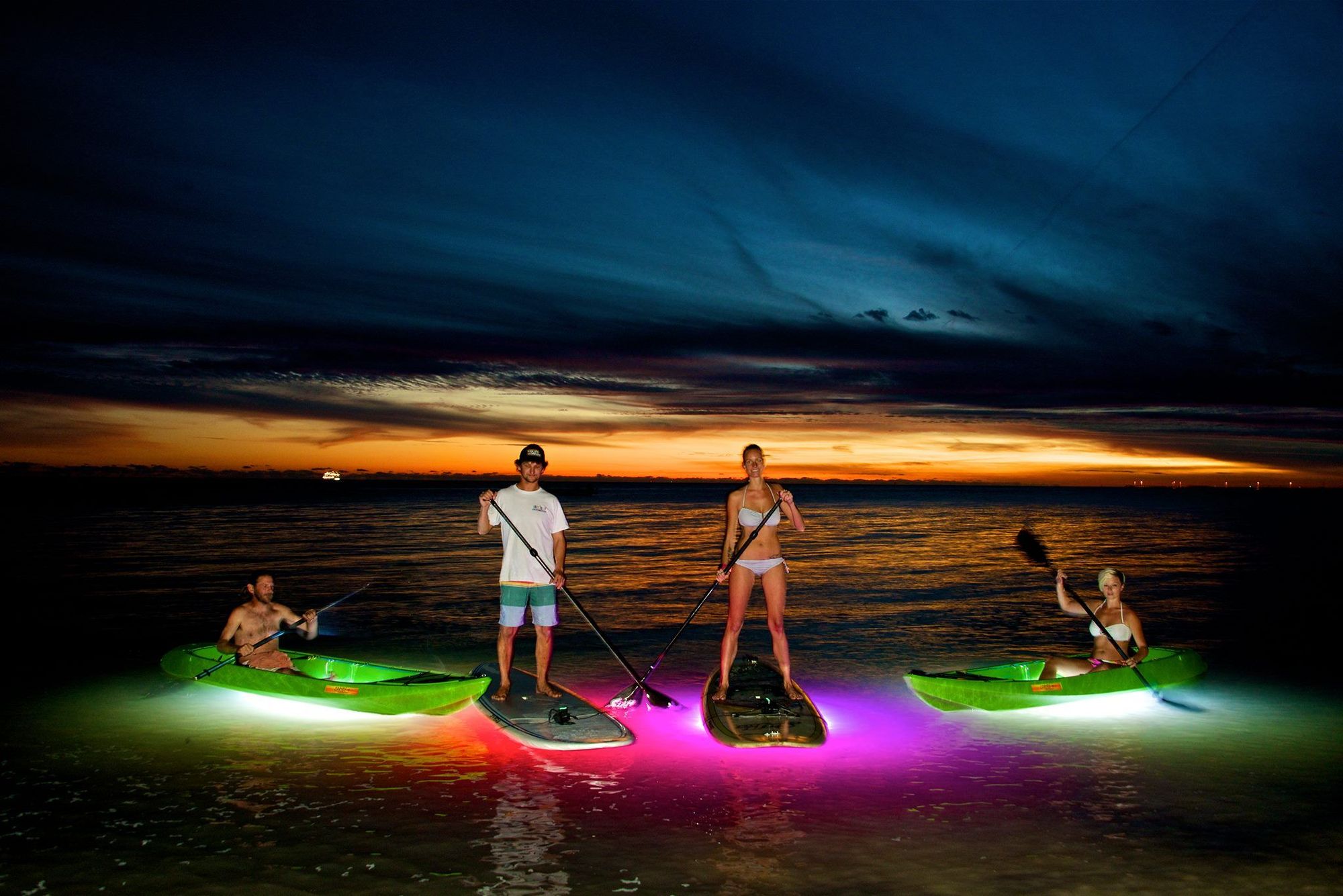 Get The Most Out Of Your Mangroves Experience In Key West
You're sure to get the most out of your trip to the mangroves if you schedule a tour with one of our talented guides. They know all the best locations for beating the crowds and giving you a peaceful experience in the water.
Whether you want to find sea turtles or you're simply searching for a peaceful way to experience the wildlife of Key West without kayaking under the blistering summer sun, our nighttime kayaking experiences of the mangroves are sure to be a memory-making adventure.
Visit our website to book your favorite tour experience of the mangroves of Key West today!