The highlight of any visit to Key West is the chance to look for a sea turtle. Plenty of snorkelers will report seeing a green sea turtle swimming beside them. In a marine environment that is filled with living coral and colorful tropical fish, a sea turtle sighting is the greatest memory you'll take home with you.
Traveling to Key West during nesting season offers an entirely new experience to hopefully witness a sea turtle burrowing in the sand to make her turtle nests.
A tour we think you'll love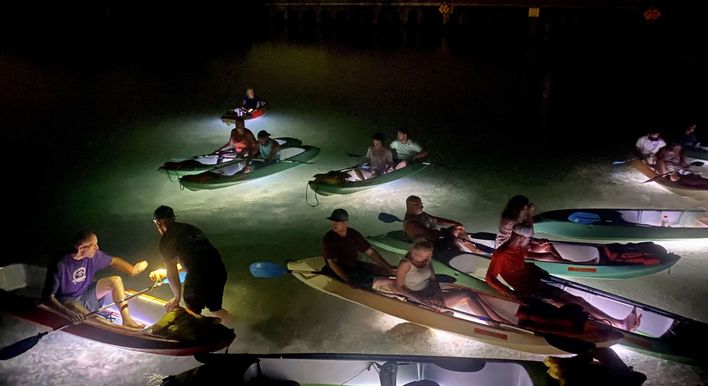 Night Kayak Guided Tour
From $60
View tour
Whether you visit during nesting season, hatching season, or any other time of year, there are places where you can witness a sea turtle in action.
Let's look at some ways you can see a sea turtle on your trip to Key West.
Sea Turtle Nesting Season Florida Keys
A female sea turtle will reach the age of sexual maturity at 20-30 years old and return to the same beach where she was hatched. Many of those turtles have not been back to that beach since they hatched, but they will still follow their instinct during nesting season to lay their eggs on the same beach.
Nesting season begins in spring and continues into early summer. After hatching, the baby turtles will forge their own path from the turtle nests to the sea, but many will not survive their first year.
The sea turtle nesting season is from March 1 to October 31 on the Atlantic Ocean side and May 1 to October 31 on the Gulf of Mexico side. The female sea turtle arrives on the beach late at night and digs a nesting hole in the sand and the eggs will incubate for two months before they hatch.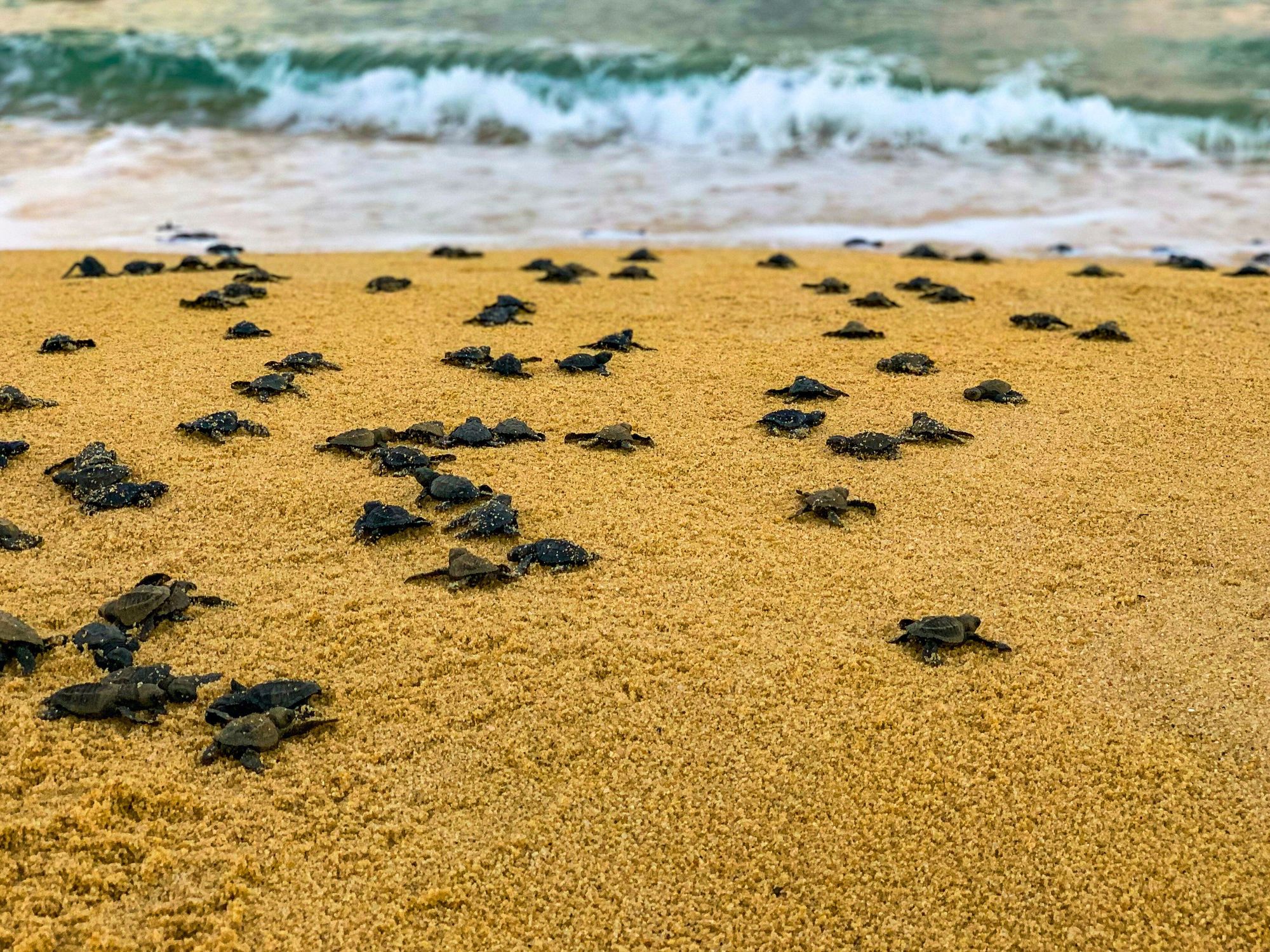 Sea Turtle Hatching Season In Key West
If you want to watch the baby turtles emerge from their nest and waddle out to sea, then plan to visit Key West from late summer through fall. Of course, mother nature has no exact date, but plan your Key West trip for August through October for your best chance to watch the baby sea turtles.
While many tourists plan their trip during early nesting season, savvy travelers know that hatching season, when the baby sea turtle emerges from the nest, is the best time to be there.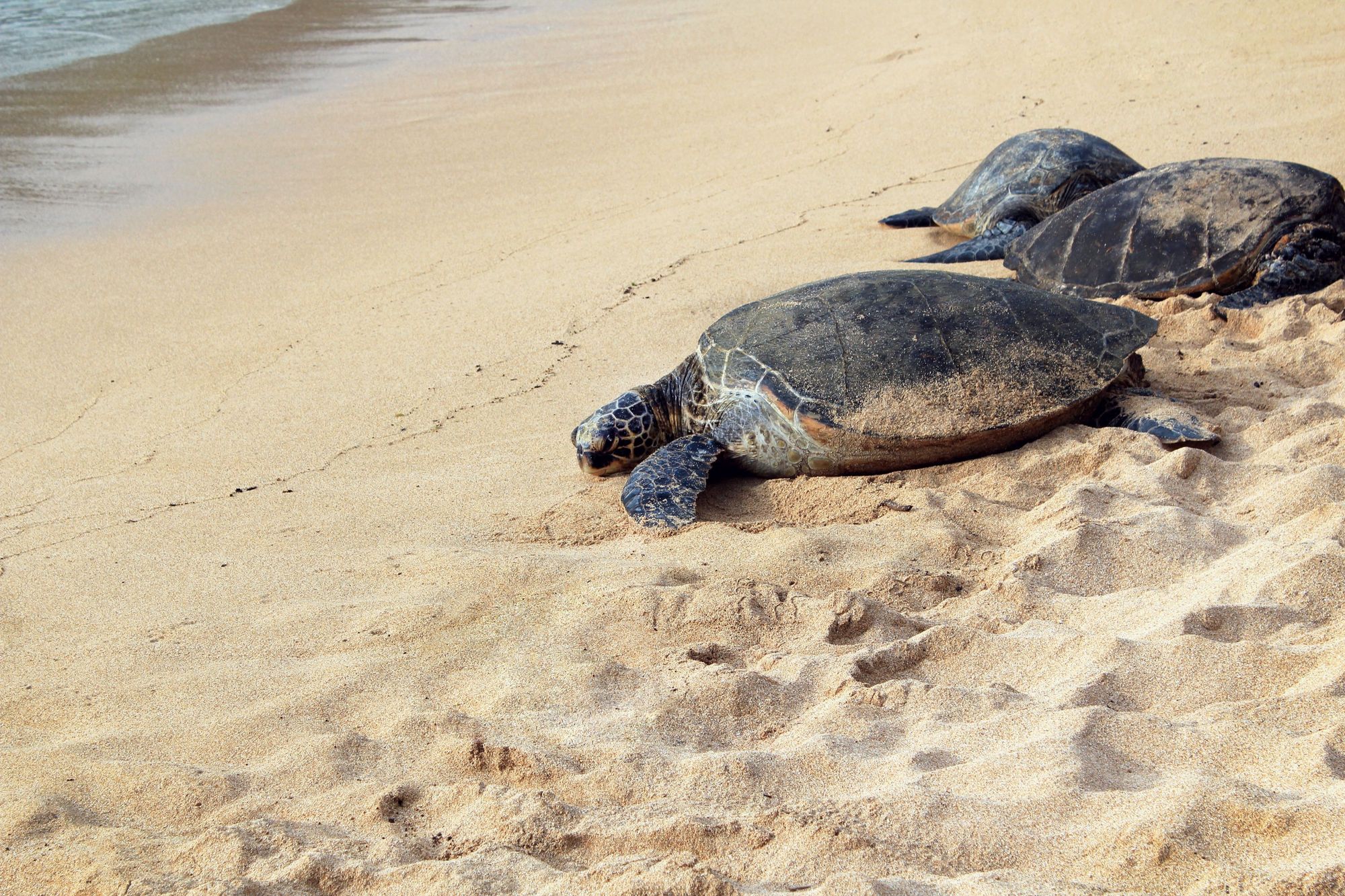 Search For Key West Turtles At Night – Night Kayak Tour
You'll never forget the first time you see a sea turtle swimming beside you. Their beautiful shell gently glides through the waters a truly amazing sight.
Hit the water in a glass-bottomed kayak at night in search of the marine life that is native to Key West. The experienced team at Night Kayak Key West uses custom-built kayaks with LED lights that illuminate the water. The guides have years of experience navigating these waters and will take you to the best spots for wildlife viewing.
Through the kayak's glass bottom window, you'll see colorful tropical fish and possibly nurse sharks, octopus, jellyfish, or a sea turtle swimming in the crystal clear water. Nighttime is when the nocturnal marine life comes out to play, and having the chance to see them is a magical experience. Paddling a glass bottom kayak with LED lights is unique, and Night Kayak Key West is the only company in the area that offers them.
To book your amazing Night Kayak Tour, give us a call or go online today. We look forward to taking you out for your best experience in Key West.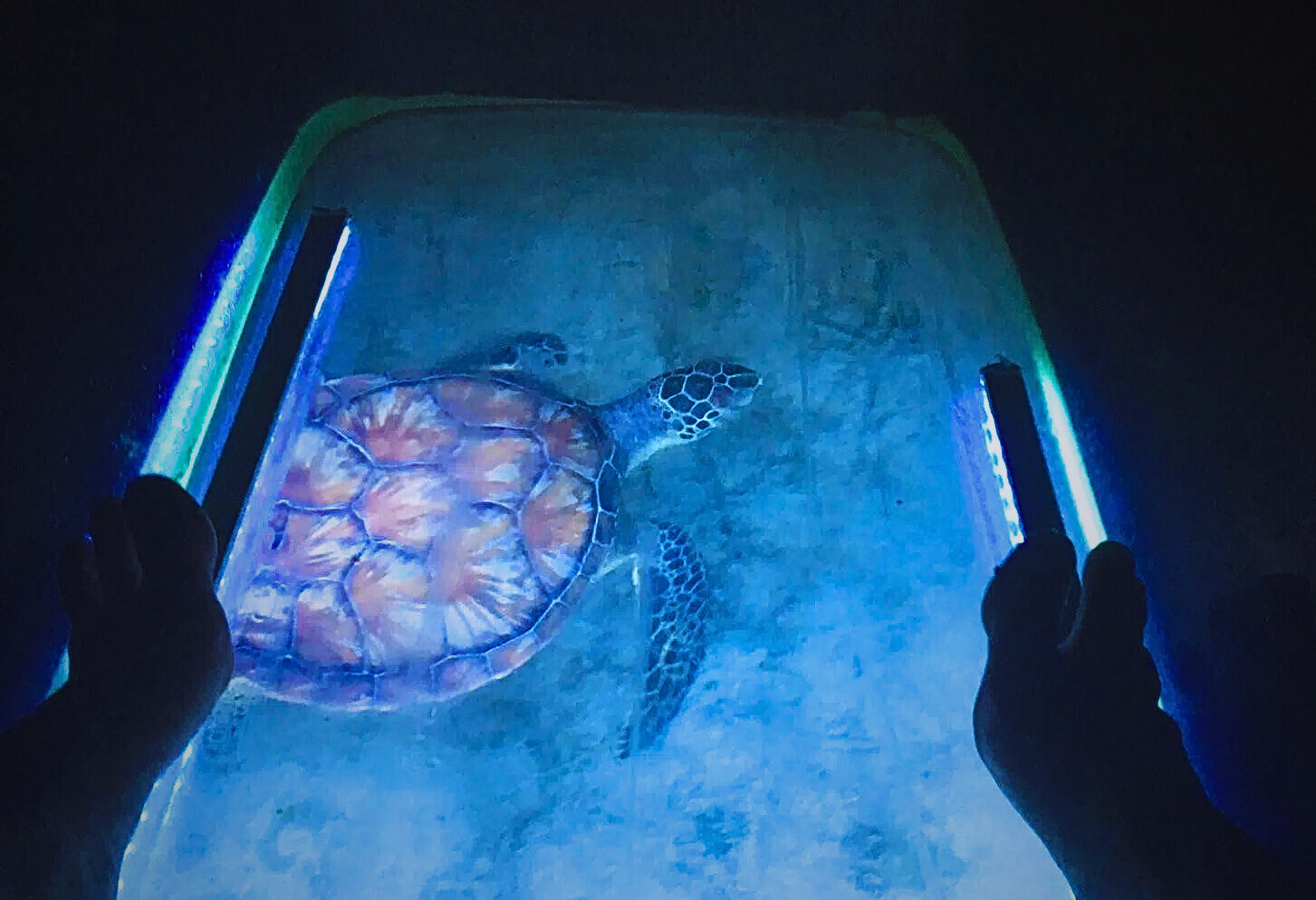 Key West Sea Turtles – Endangered Species
There are seven sea turtle species, and five of those species live in the Florida Keys. All five are currently considered vulnerable or endangered and are given legal protection in the US under the Endangered Species Act.
Those five species and their current status according to the Endangered Species Act are:
Leatherback sea turtle – vulnerable

Green sea turtle – endangered

Hawksbill sea turtle – critically endangered sea turtles

Loggerhead sea turtle – vulnerable

Kemp's ridley sea turtle – critically endangered
Learn about sea turtle conservation with a visit to the Key West Aquarium. The aquarium has a program to rescue injured sea turtles, rehabilitate them, and release them back into their natural habitat when possible. The aquarium is a great place to watch a sea turtle up close and observe their hard shell and rubbery skin. Visitors can see four sea turtles in residence who have been rehabilitated but cannot be released.
Best Places To Find Sea Turtles In The Florida Keys
A sea turtle will spend all their time in the water. It's possible to see them swimming anywhere you go in the warm, clear waters of the Florida Keys. You can find a sea turtle while snorkeling near shore or by taking a snorkel excursion by boat.
During nesting season, the following beaches have sea turtles visit every year to build their nest:
Smathers Beach on Key West

Bahia State Park in the middle keys

Coco Plum Beach at Marathon Key

Sombrero beach at Marathon Key

Sunset Park at Marathon Key

Long Key State Park on Long Key

Islamorada in the upper keys, between mile markers 72 and 83,
The most prolific site for Key West turtles is the Dry Tortugas National Park. Sea Turtles are frequently seen swimming around all seven islands within the Dry Tortugas.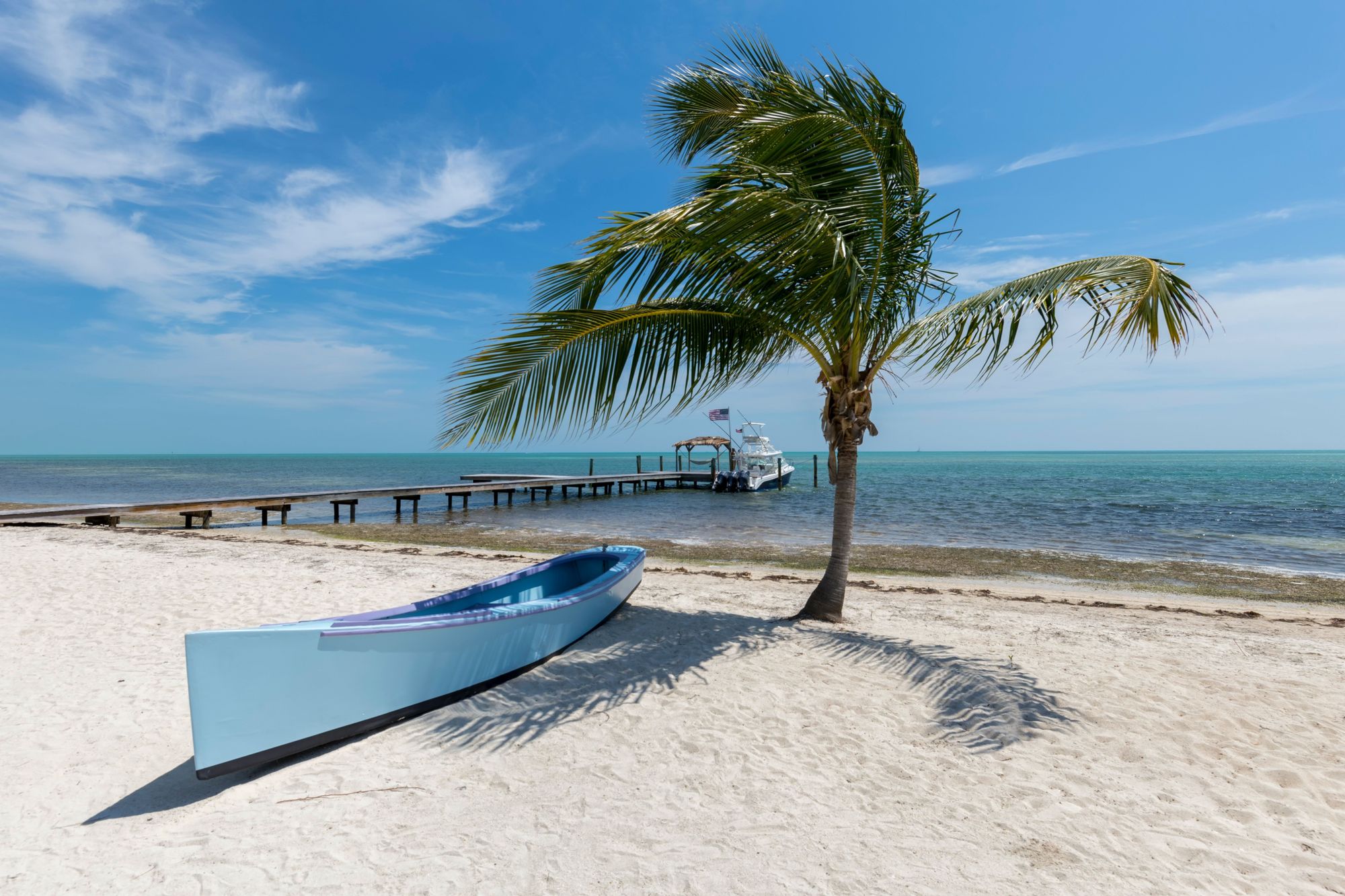 Visit Dry Tortugas National Park
Visit the Dry Tortugas National Park for your best chance at seeing majestic sea turtles swimming in the ocean or even nesting on the beach. This remote national park is approximately 70 miles west of Key West.
The Dry Tortugas are accessed only by boat or seaplane. Travelers from Key West can charter a private boat or take the Dry Tortugas Yankee Freedom ferry. The journey is 2.25 hours from the Key West ferry terminal to historic Fort Jefferson on Garden Key. You just might see a sea turtle along the way.
The Tortugas offers some of the best snorkeling in North America. The clear blue water is shallow and calm enough for even beginning snorkelers. Visitors can see living coral, an abundance of colorful tropical fish, starfish, sea sponges, anemones, lobsters, and sea turtles.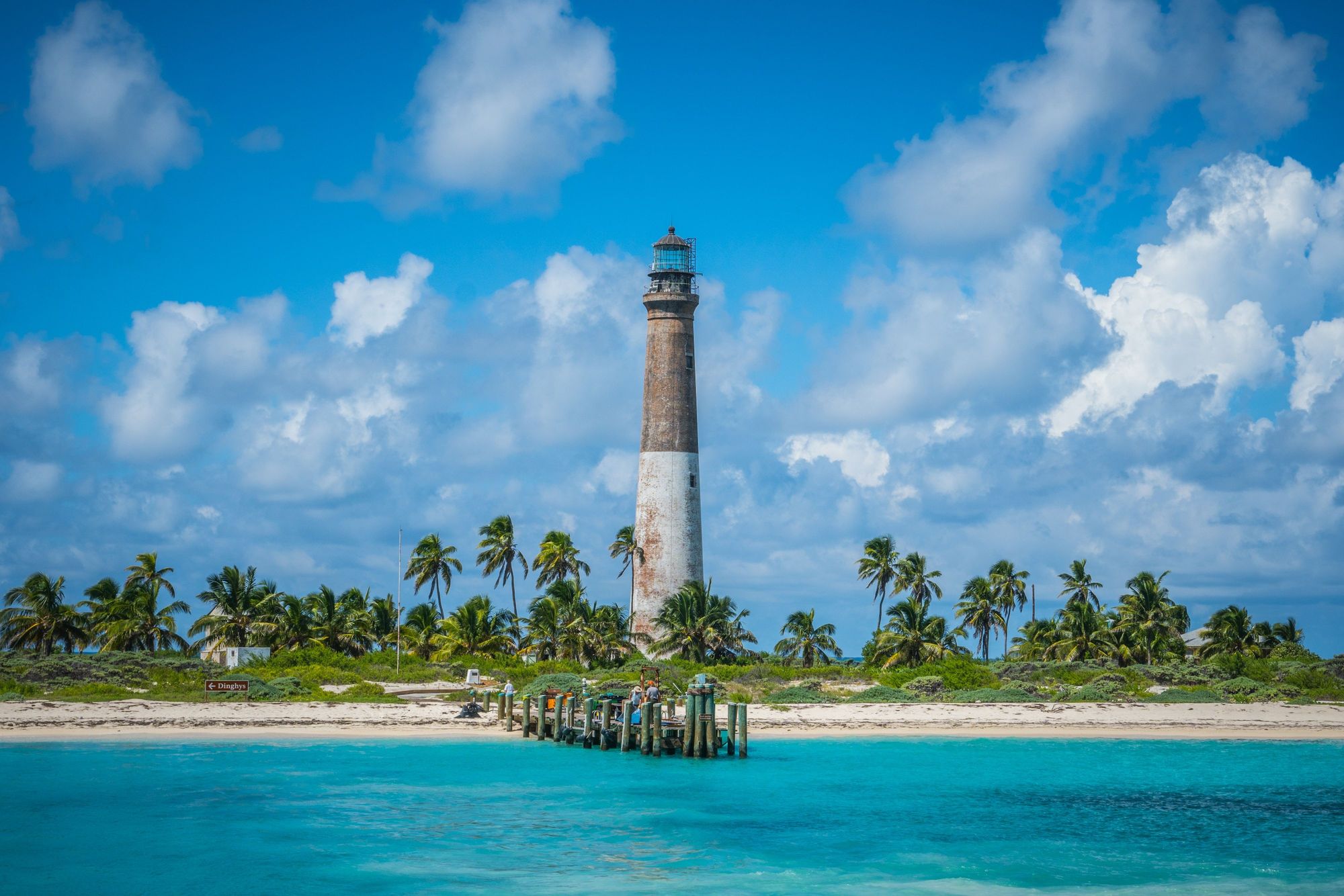 Key West Sea Turtle Nesting Season – Things to Know
Visiting Key West during sea turtle nesting season is a special time of year. To sit back from a distance and quietly watch the sea turtle nesting activity is a magical experience you'll never forget. You need to know a few things before approaching a beach with an active turtle nesting site.
With the number of sea turtles dangerously low, it is important to observe the rules set out by the US Fish and Wild Life Service to protect this endangered species. Here are the rules to be aware of when visiting Florida during turtle nesting months and also outside of nesting season.
Never approach a sea turtle on the beach. Turtles spend all their life in the water and will only be on the beach for sea turtle nesting. Feeding or touching sea turtles in any way is illegal and punishable with fines or jail time.

Do not take flash pictures of sea turtles. Lights and noise can stop the sea turtle nesting process.

Do not shine a flashlight on a sea turtle. This can hinder their ability to find their way back into the ocean.

Keep the beaches and the water pollution free. If you see trash, pick it up and dispose of it properly. Even if it isn't your trash, we can all do our part to protect the sea turtles.

A sea turtle is a wild animal. Always be respectful of their habitat.
The same rules will apply during the hatching season from August through October or anytime you observe a sea turtle.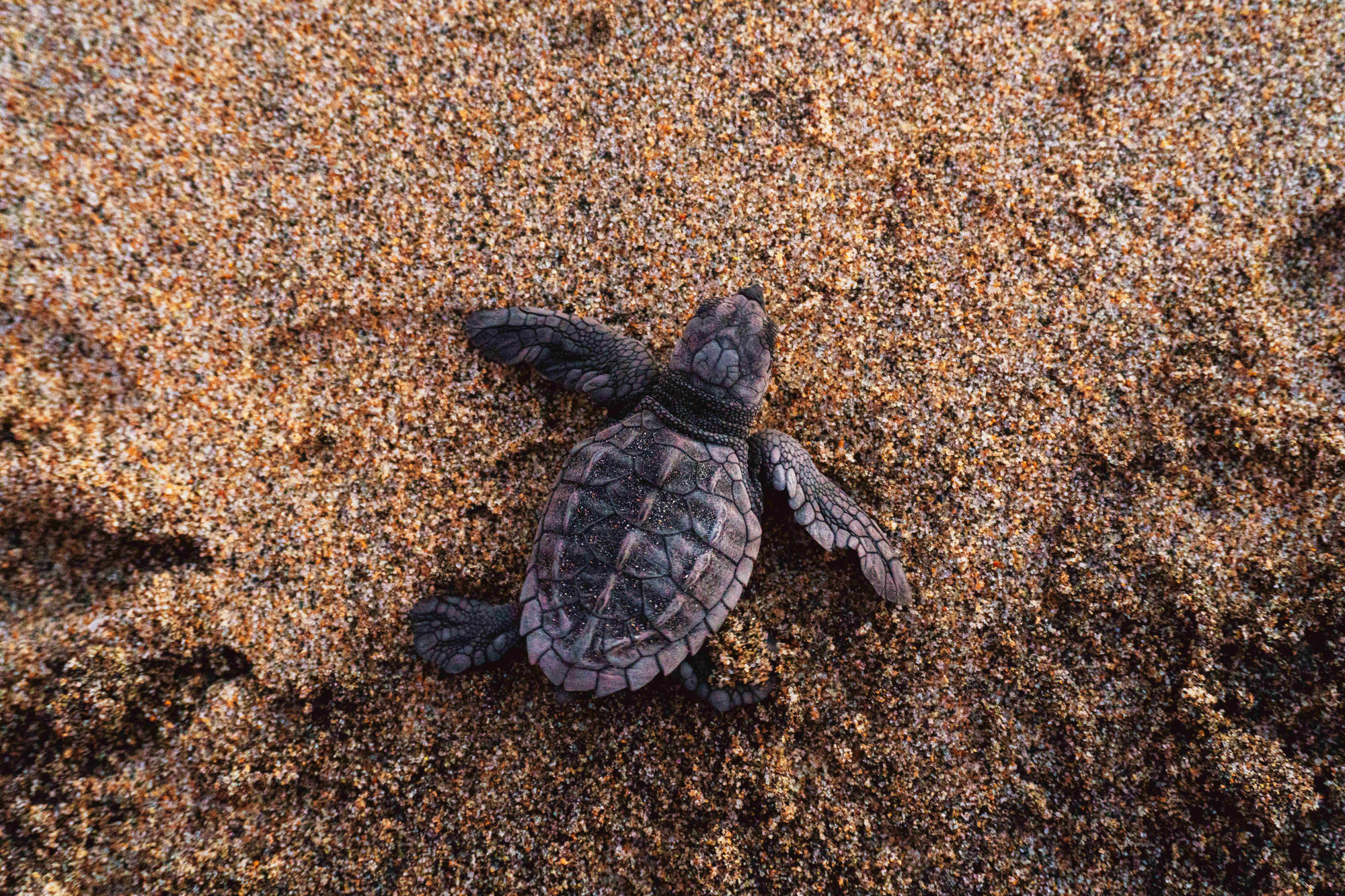 Sea Turtles Found
If you find a sick, injured, or dead sea turtle, do not approach it. Call the Florida Fish and Wildlife Conservation Commission (FWC) at 888 404 3922 to report the location of the sea turtle.
Visit The Turtle Hospital In Marathon, FL
The Turtle Hospital in Marathon offers the only sea turtle hotel in the Florida Keys. The drive from Key West to Marathon is about 1.25 hours, and worth the drive to visit this fantastic non-profit facility.
The goals of the Sea Turtle Hospital are to:
Rehabilitate injured sea turtles and release them into their natural habitat.

Educate the public about sea turtles.

Assist in sea turtle research.

Work toward greater environmental legislation to protect sea turtles.
Visitors are taken on a tour of the facility, where you can see the rehab tanks with loggerhead turtles, green turtles, leatherback sea turtles, and hawksbill sea turtles. There are also five permanent resident sea turtles that have been deemed non-releasable by the Florida Fish & Wildlife Conservation Commission.
The tours last 70-90 minutes. Reservations are highly recommended and can be made online. Admission is $30.00 for adults, $15.00 for children aged 4-12, and free for children under 4.
Key West Is A Magical Destination For Sea Turtles Lovers
The best way to look for a sea turtle in the wild is with the help of a knowledgeable guide. Local guides know the best spots to find a green sea turtle, loggerhead, Kemp's ridley, hawksbill or leatherback sea turtle.
You can avoid the crowds during the nesting season by going out at night with an experienced guide with Night Kayak Key West. They've been leading night kayak tours for many years and know the best places to go in the hopes of seeing an allusive green sea turtle and other fantastic marine life.
To book your amazing Night Kayak Tour, call or go online today. We look forward to taking you out for your best experience in Key West.