Discovering the Florida Keys by kayak is a wonderful opportunity to take in the area's stunning scenery and wildlife. Kayaking in the Keys around Key West and Key Largo is also a thrilling and popular pastime for tourists and residents alike due to the area's pristine waters and rich marine life.
Don't worry if you've never been kayaking before! Many tour groups in the area also conduct instruction that caters to the beginning kayaker. Popular spots for kayaking in the Florida Keys include Key West and Key Largo, with each offering its own special features and challenges. Read on for some kayaking pointers and suggestions for your next trip to the Florida Keys.
A tour we think you'll love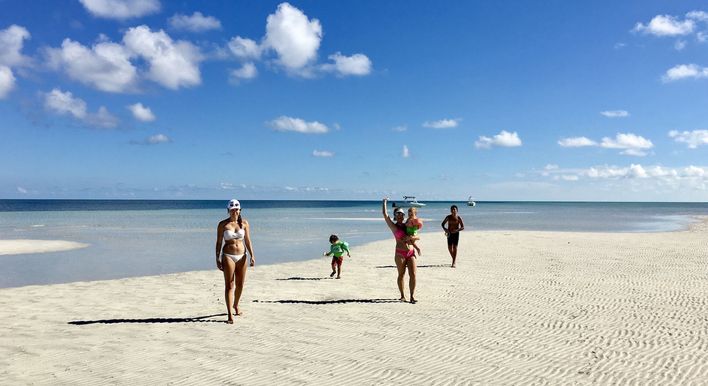 Key West Sandbar Trip
From $550
View tour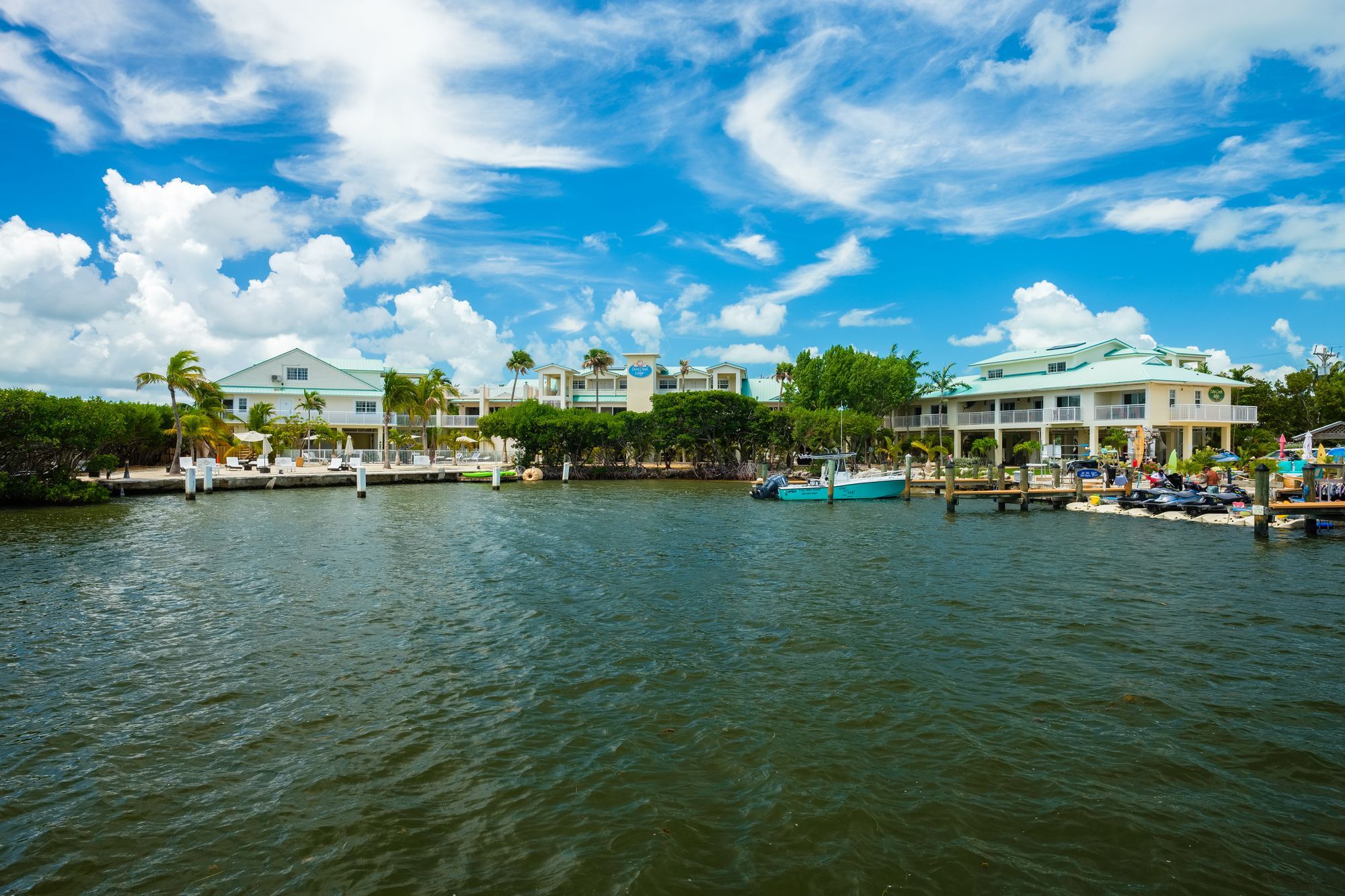 Kayaking In The Florida Keys: Some Helpful Hints
While kayaking is generally a safe and enjoyable activity, it does, like many others, require some forethought and caution on the part of participants, especially if kayaking around Key Largo during the stormy months. There are a few things kayakers in the Florida Keys should keep in mind to stay safe and have a good time:
1) Keep An Eye On The Forecast
Unpredictable weather in the Florida Keys, especially in the form of high winds or storms, might pose a threat to kayakers. Before leaving, it's crucial to know the current weather and any current weather alerts or advisories, especially around Key Largo which is closer to the Atlantic.
2) Be Aware Of The Tides
Tides in the Florida Keys can have a considerable impact on kayaking conditions, including water depth and current strength. If you're going to go kayaking, you should study up on the tidal charts beforehand.
If you aren't familiar with the area, make sure you ask local instructors about the tide conditions before setting out. The tides around Key Largo will not be the same as in Key West on the same day and time.
3) Respect The Environment
The Florida Keys are home to a variety of unique and delicate ecosystems, including coral reefs and mangrove forests. Kayakers around Key West and Key Largo should be careful not to hurt these environments by staying away from shallow spots and not stirring up sediment.
4) Follow Regulations
The Florida Keys are subject to various regulations governing water activities, including fishing and park use. Kayakers should be familiar with the regulations and follow them to avoid fines or penalties. Be aware that regulations around Key Largo might differ from the other Keys. Never kayak while intoxicated.
5) Bring Appropriate Gear
Kayakers should load up on necessities for their paddling destination, even if they are on a guided tour. A few examples of such things are:
An individual flotation aid (PFD)

Sunscreen and hat

Plenty of food and drink as needed

A map or a global positioning system

SOS air trumpet or whistle

Visual distress signals if boating after dark
By remembering these guidelines, kayakers can cruise the crystal-clear waters of the Florida Keys with confidence. But what important points should you know about kayaking in a particular area of the Florida Keys, such as Key West or Key Largo?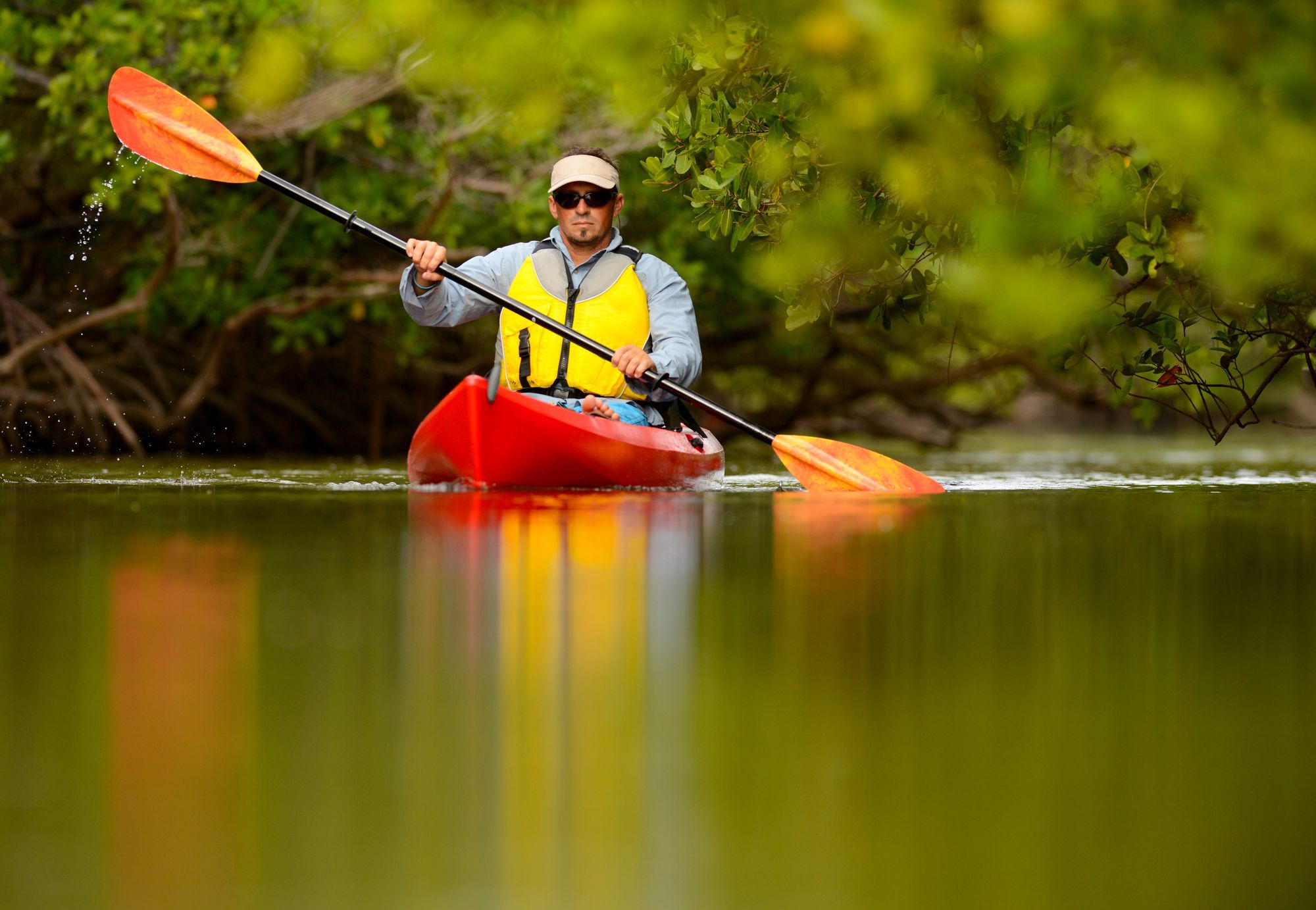 Kayaking In Key Largo In The Upper Keys
Kayaking in Key Largo is very different from kayaking in Key West. This area is great for novice kayakers or those who just want to take it easy on the water, as many Key Largo kayaking guided tours cater to beginners. In the Upper Keys, tourists can visit Florida Bay, Everglades National Park, and John Pennekamp Coral Reef State Park, or float through a secluded mangrove tunnel and shallow waters as just some examples.
The natural wonders and fascinating sea life around Key Largo can be best experienced on an eco-kayaking trip or on wildlife kayaking tours. Mangrove forests, seagrass meadows, and coral reefs are just a few of the various ecosystems that may be seen by tourists on these kinds of Key Largo kayak tours. Manatees, dolphins, sea turtles, and a wide variety of birds are just some of the animals that visitors may expect to see on these tours.
A day spent on a Key Largo kayak tour is a great way to spend time with loved ones. John Pennekamp Coral Reef State Park is only one of many local parks that offers launch locations so that guests can see the park's beautiful coral reefs and abundance of marine life. Some further hotspots for Key Largo kayaking are:
Harry Harris Beach and Park

Rock Harbor

Lower Sound Point

North Sound Creek

Everglades National Park

Kayaking In The Middle Keys
The Middle Keys are a fantastic place for a kayak trip because they provide both easy and difficult water conditions. In a relatively small area, vacationers can experience the diversity of mangrove forests, tidal flats, and the open ocean.
Paddling through the mangrove tunnels is a popular activity among kayakers. Visitors can enjoy a serene and uncrowded kayaking adventure along these tiny canals that weave through lush mangrove woods, similar to the ones around Key Largo. Rent a kayak from one of the many local businesses and take a guided trip through the tunnels or go adventuring on your own for a unique kayaking experience.
Visitors can also explore the region's shallow flats, which are home to a variety of fish species, including bonefish, tarpon, and permit. Kayaking trips for fishing are a popular activity in the Middle Keys and visitors can rent fishing kayaks or bring their own to catch a variety of game fish. Some popular spots and launch sites include:
Tom's Harbor Cut Bridge

Curry Hammock State Park

Sombrero Beach

Kayaking In Key West
Key West is a terrific spot for exploration and adventure because of its dynamic and exciting atmosphere. Kayaking excursions range from simple fishing trips, family kayaking tours, and eco-tours in search of marine life to guided excursions into mangrove tunnels. The beaches around Key West are also known for their gentle waves and tides and are good launching points for beginning kayakers, as is Key Largo with its own calm waters.
Kayak fishing trips are a fun way to get in on Keys' thriving fishing scene. The clear, shallow waters of Key West make kayak fishing a novel and thrilling way to enjoy the excitement of catching fish. Visitors can fish from kayaks they rent from a variety of local businesses or bring their own boats.
Visitors to Key West can rent kayaks to get out on the sea and see more of the island. Single and tandem kayaks, sit-on-top and sit-inside kayaks, pedal-powered kayaks, and other kayak designs are all available from kayak rental businesses and kayaking tours, some of which also operate in Key Largo. There is a wide variety of kayaks available, so tourists can pick one that is suitable for their needs and experience level.
Tourists may easily reach the Gulf of Mexico from several areas and boat to nearby islands and beaches. Kayaking hotspots in Key West include some of the following:
The Southernmost Point

The Saddlebunch Keys

Sugarloaf Key

Smathers Beach

Higgs Beach

Fort Zachary Taylor State Park

Start Planning!
To sum up, kayaking in the Florida Keys is an activity that no one will ever forget, no matter your skill level. There are many possibilities to experience the spectacular sea life and natural beauty of the region, regardless of whether you like the bustling environment of Key West or the peaceful seas of Key Largo.
Paddle through Everglades National Park or John Pennekamp Coral Reef while taking in the stunning scenery around Key Largo. Visitors of varying experience levels will find kayaking in the Florida Keys to be easily accessible thanks to the availability of kayak rentals, environmental tour options, and the opportunity to bring one's own gear.
Whether you're a seasoned kayaker or have never been on the water before, you shouldn't pass up the opportunity to explore the Florida Keys, especially Key Largo and Key West, by kayak and have a memorable kayaking experience.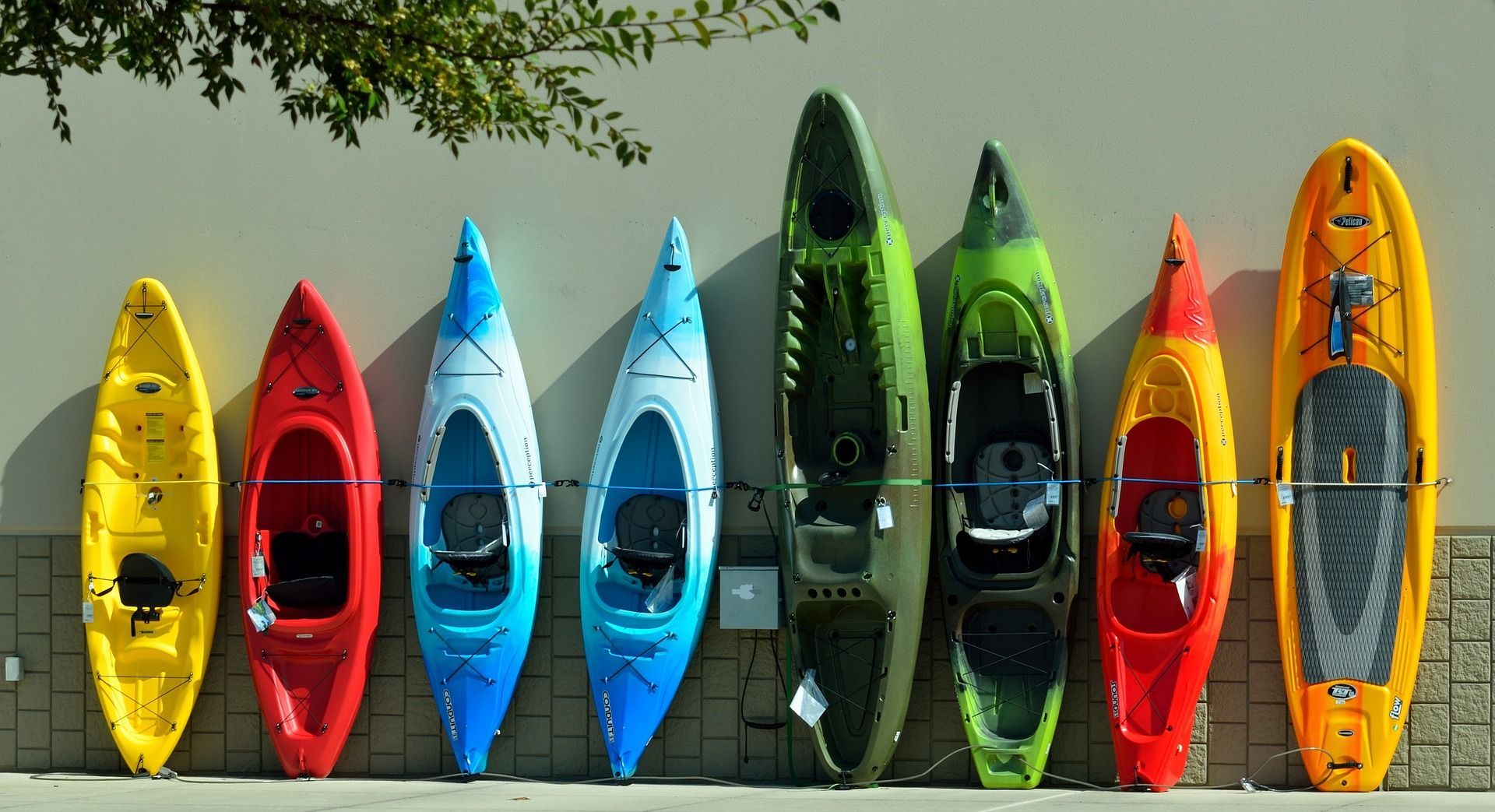 Row Your Boat!
Guests who wish to bring their own kayaks to the Keys can do so with ease. However, if their own craft does not meet local regulations, renting a kayak or going on a guided Key West kayak tour, or tours from the other islands might be a better option.
If a guided tour is what you need, look no further than Key West Paddle. This family-friendly company offers one of the most unique guided kayak tours of the Keys: nighttime excursions in glass-bottomed boats! Visitors can experience the local sea life and unique wonders of the Keys from an illuminated kayak on calm waters that gives a magical view of the crystal-clear waters and the sea creatures below.
The knowledgeable tour guides are experienced on the water and have a wealth of information to share. Visit our website or call today to schedule your own nighttime kayak excursion!