Key West Florida is more than bars and museums. If you haven't gotten off the island and into the water, you're missing out on an entire world of excitement. Taking a Key West sandbar tour (and turning it into a party) can be one of the most epic parts of your trip.
When you spend some time on the water around Key West, you'll have better stories to tell, more memories of your time in and around the island, and one heck of a party to tell people about.
A tour we think you'll love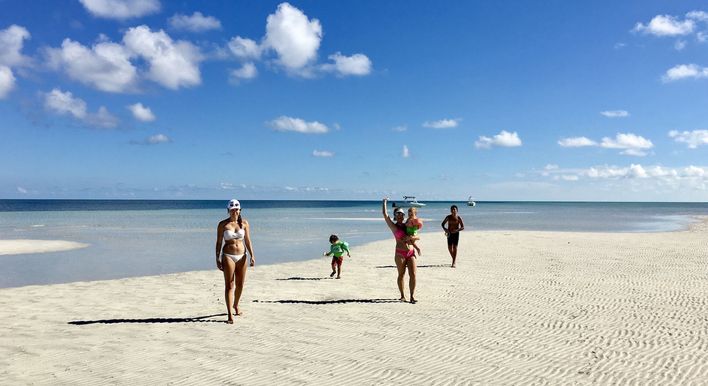 Key West Sandbar Trip
From $550
View tour
Throw A Better Party With A Private Boat
If you're going to have a Key West Sandbar party, it's important to do it right. You don't want to have to find all of the sandbars on your own, nor do you want to have to drive the boat.
A captain can ensure you get one of the best sandbar trips of your life while in Key West, hopping from sandbar to sandbar. You can not only spend time around an amazing sandbar but also enjoy the amenities of a private boat. That can include water toys, an inflatable hangout dock, snorkel gear, and more.
We can provide you with unforgettable sandbar tours in Key West so that you can not only explore the shallow waters and spend time offshore but also have the time of your life with family and friends.
Here are a few things you may want to pack to ensure you have an epic party in Key West:
Alcohol (or supplies for mocktails)

Food

Sunscreen

Your favorite playlist

Friends and family
A Key West sandbar party can be as exciting as you make it out to be. Choosing an experienced boat company will also allow you to plan the entire trip, whether you want to be on the water for a few hours or the entire day.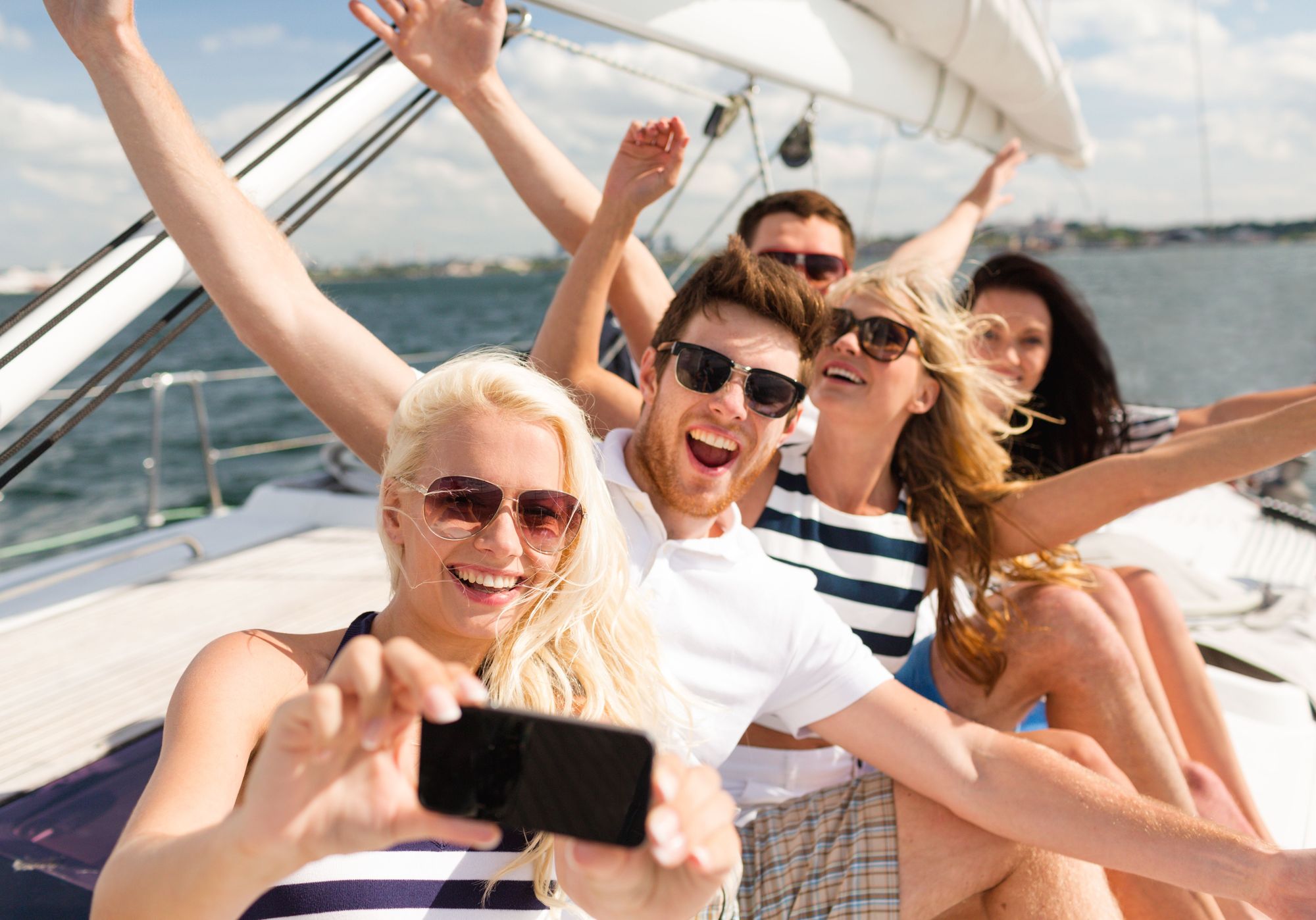 The Key West Sandbars You Should Discover
What you may not realize is that there are countless sandbars around the Florida Keys. However, not all are accessible by jet skis. It's all the more reason why you should focus on a chartered Key West boat.
Here are some of the top sandbars that should be on your list of places to visit:
Mud Keys
The Mud Keys sandbars are some of the most picturesque, and that's because they are hidden within the mangroves. You're likely to encounter quite a bit of nature out here, too:
Rays

Fish

Turtles

Dolphins
Take a tour around the wilderness of Mud Key, snap some photos, and go for a swim. Tour guides and boat captains will point out the best spots to check out once you arrive.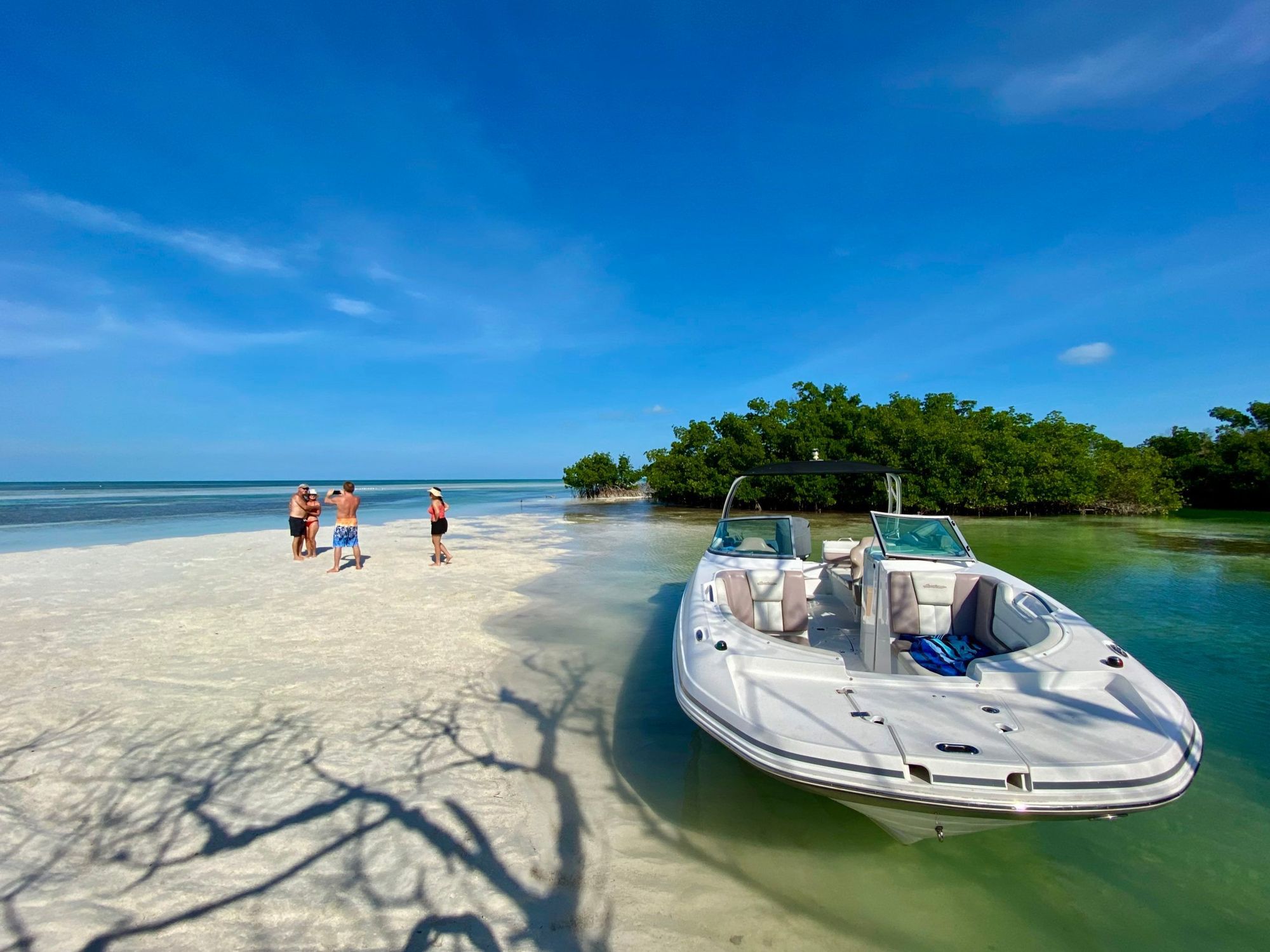 Woman Key
Woman Key is one of the better-kept secrets of Key West Florida. It has some of the most amazing turquoise waters, and you won't believe it until you see it for yourself.
The secluded beach is ideal for sunbathing and castle building. You may also want to choose this sandbar for a picnic lunch.
This is where you're also likely to find the most Queen Conch. You can't take any home with you, though, as they are protected.
Ballast Key
Ballast Key has quite a bit of history associated with it. Not only was it privately owned up until 2018, but it was once on the market for $15.8 million. Many argue about the size since there are sandbars, salt ponds, and more to consider. It is between 14 and 26 acres.
The sandbars here are similar to the Mud Keys with all the mangroves. The main difference is that it's completely off the grid. You'll find the Key West National Wildlife Refuge surrounding the area. What you do see on the island relies on solar panels and water catchments.
While you can take the Dry Tortugas ferry from Key West and pass Ballast Key, the best way to see it is with a private charter. It allows you to explore the sandbars in person and get some amazing photos while you're there.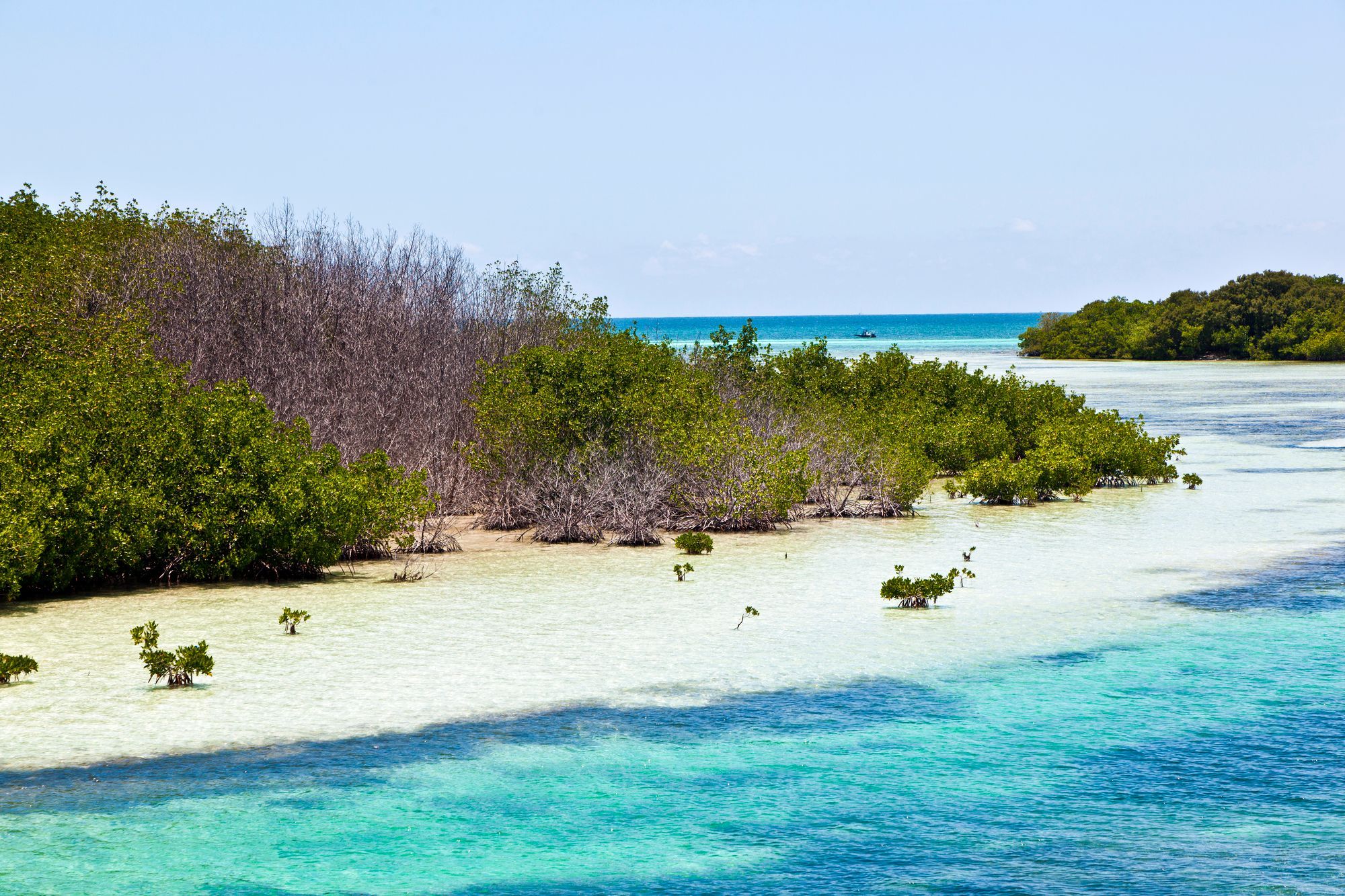 Boca Grande Sandbar
Boca Grande Key is about 14 miles away, and it's the largest of the islands within the Mule Keys. Since this is one of the largest sandbars, it's also one of the busiest. It's where many locals hang out, so you'll see lots of boats driven right up to the shore.
At Boca Grande, you will not have service there, so you can take a break from your phone and enjoy the turquoise water surrounding you.
Snipes Point Sandbar
An experienced Key West boat captain can navigate their way to Snipes Point Sandbar. It can be challenging to navigate the backcountry of Key West. This is where you'll find white sand beaches as well as a tree swing that is Instagram-worthy.
Plan on getting wet when your sandbar trips land here. The water is deeper, so you can snorkel and dive down a bit to see more species of fish and even rays and sharks.
The sandbar is one of the bigger ones, so you may want to pack some hiking boots. There's enough land for you to hike around.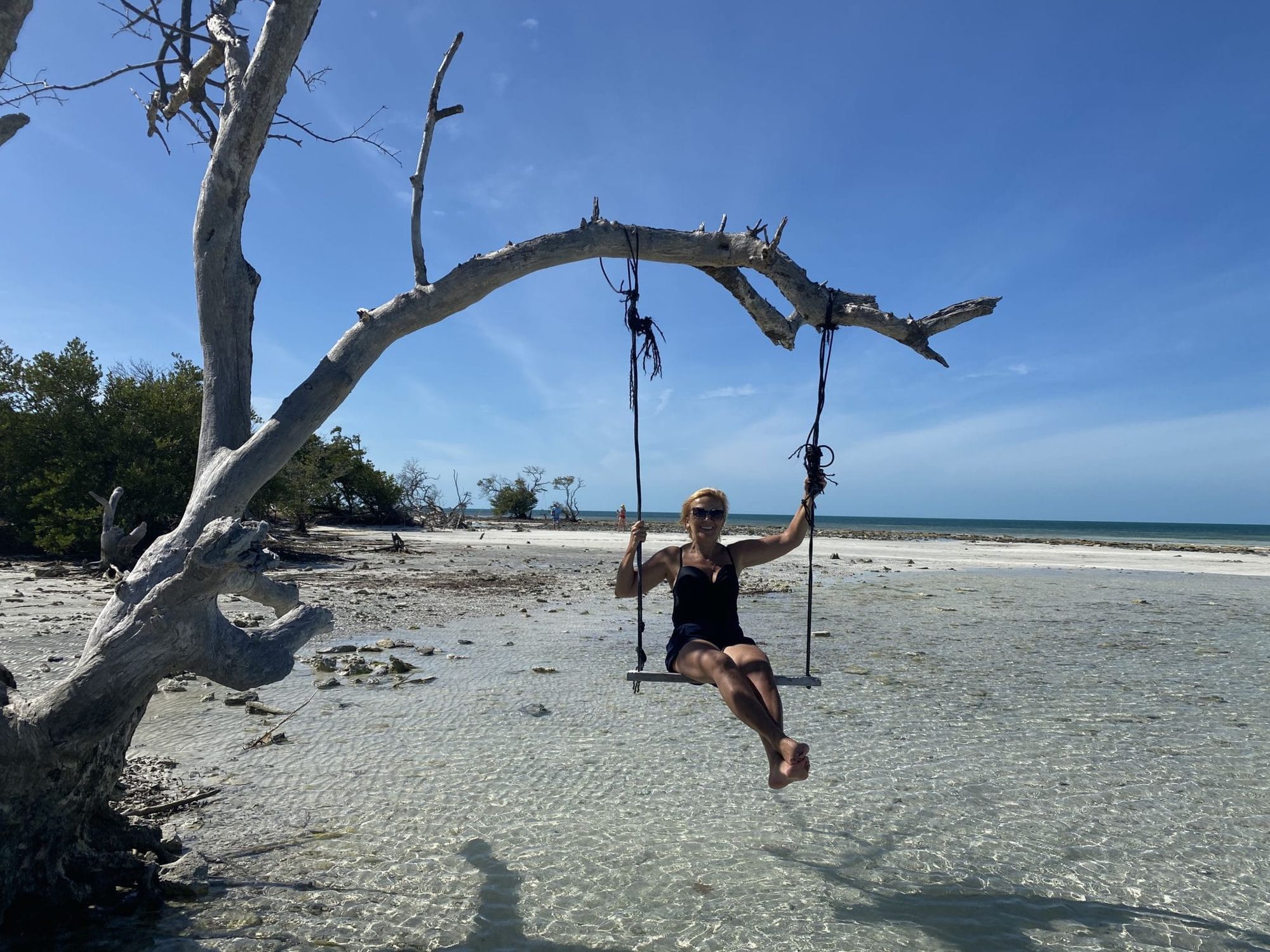 Don't Limit Yourself To One Key West Sandbar
A true Key West Sandbar party means being able to explore more of what Key West has to offer. You don't want to stay at just one sandbar because it will limit your activities. Plus, what if the first sandbar that you arrive at is crowded with tourists?
You deserve to explore the crystal clear water of Key West, FL. You can swim with the sea turtles and the tropical fish, kayak around the mangrove islands, and more. By sandbar hopping around Key West, you can see the best of what each has to offer. Plus, the best Key West sandbar charters will know where to take you so that you can enjoy amazing views, sandy beaches, and all the beauty that Key West has to offer.
Get Creative With Your Party Boat Adventure
With a party boat in Key West, you can say where you want to go, and a captain will take you. This allows you to go far beyond the basic sandbars of the Florida Keys.
For example, the Jewfish Basin Sandbar is only seven miles north of Key West. It's a place that only the most experienced Key West charters will go to, however, because of the shallow waters. It's close to a mangrove island, too, so you'll find plenty of tropical fish around.
Of course, it all depends on the day and what kind of activity you want to enjoy as to what Key West sandbar is right for you.
Let an experienced Key West captain help you with your sandbar tours. That way, you can explore a bit of everything:
Beaches

Lagoons

Mangroves

Picturesque islands
You're missing out on a world of fun if you limit yourself to the shores of Key West. We offer sandbar charters like you've never dreamed of. It's the opportunity to have an amazing party as you hop from sandbar to sandbar, having the time of your life. Enjoy snorkeling through the warm turquoise waters and lounging in the sun.
We will ensure you see a different side of the Florida Keys. Customize your trip so that you can have a day of fun exploring the amazing sandbars and the backcountry waters. We can take care of the snorkeling gear, the picnic lunch to enjoy on the sandy beaches, and more.