So you're going to Florida with the kids, and they cheered when they thought you meant Disney World and Seaworld, but then sported skeptical looks when you said you were going to Key West. Never fear! It might not be Orlando or Tampa, but Key West has enough to do for families, with activities the kids are sure to enjoy.
Key West is an island in the Florida Keys, which is a chain of islands off the southeastern coast of the state connected by an overseas highway. It offers a vast assortment of activities for all kinds of travelers, from families to couples or even those traveling alone, which include kayaking, snorkeling, visiting historical landmarks, the Key West Aquarium, and many others.
A tour we think you'll love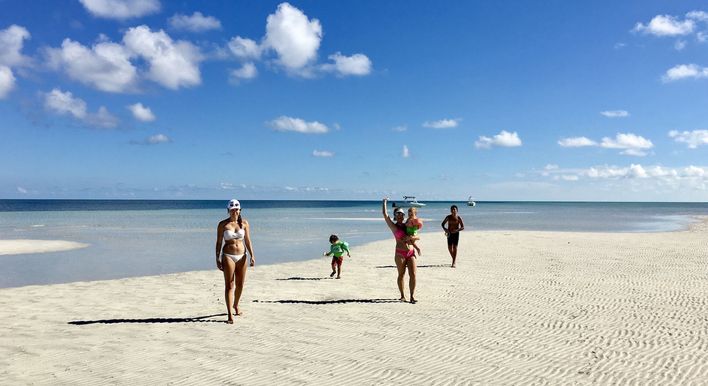 Key West Sandbar Trip
From $550
View tour
Fun Things To Do In Key West With Kids
Making a rough plan or itinerary for your trip is a smart way to make sure everyone gets to do at least one thing they want to accomplish while in Key West. We hope that some of the following suggestions are useful.
1) South Beach
Because Key West is an island, visitors have their pick of several beautiful beaches, but South Beach, located near the southernmost point of the island may be the most interesting. It is only 200 ft. square, making it one of the tiniest public beaches in the state. However, that also makes it less busy and a little more picturesque, and less touristy than some of the other beaches in Key West.
Take a trip to the Southernmost Resort on the beach and the South Beach Pier at the end of Duval Street for a day of beach fun. Also, if you get up early enough, you can see the sun rises over the Atlantic from this point.
The Southernmost Café is conveniently located nearby, and it serves a wide selection of kid-friendly, budget-friendly fare, along with key lime drinks. Nearby, you'll find the official Southernmost Point of the United States, a navy-owned marker that makes for a great photo op. In addition to being a vibrant landmark at the corner of South Street and Whitehead, this buoy serves as a memorial to the Cubans who perished while trying to reach the United States.
2) Key West Aquarium
The attraction is enjoyable and educational, making it perfect for families with slightly older children. It is one of the oldest aquariums in the state, and it allows visitors to get up close and personal with rescued sea turtles and other marine creatures native to the Florida Keys.
Some of the animals can be held and petted by guests at the animal interaction exhibits. Check the website and take notice of any recurrent special displays throughout the year if you plan to visit Key West with kids.
3) The Key West Butterfly And Nature Conservatory
If your kids are becoming overheated or it's raining one day and you need an idea for family fun, a trip to the Key West Butterfly and Nature Conservatory is in order. Over sixty kinds of butterflies, as well as local floral plants and butterfly-friendly birds like flamingos, may be found in this indoor atrium. There are interesting displays, like a butterfly nursery where a lucky visitor might see a critically endangered monarch butterfly hatching.
4) Key West Shipwreck Museum
Many ships have gone down in the gorgeous but dangerous waters around the Florida Keys over the centuries, especially during hurricane season. The Key West Shipwreck Museum was established to educate the public and pay tribute to the victims of these tragedies by bringing together artifacts, live actors, and interactive activities to teach children and their families about the many ships that have gone down in the waters off the Florida coast.
The museum has a lot to offer, what with 400 years of shipwreck history in the area, as well as a recreation of a 19th-century warehouse housing various objects that would have been transported on these ships.
5) Key West Lighthouse
History buffs should not miss the Key West Lighthouse and Keeper's Quarters Museum. Formerly one of the oldest active lighthouses in the United States, this structure was decommissioned in the 1960s after decades of service and history, including as the home to the country's first female lighthouse keeper, who took over following her husband's death and remained in the position until she was 86 years old.
The museum presents numerous relics and nautical exhibits to educate the visitor on maritime activity in the area, as well as the lighthouse history itself. The lighthouse's gift shop also sells works by local artists. The 73-foot-tall tower has a great view, and kids will love climbing to the top.
6) Dry Tortugas National Park
Visiting this remote outpost is a once-in-a-lifetime opportunity. About 68 miles from Key West, in the Gulf of Mexico, is Dry Tortugas National Park. Fort Jefferson and the Dry Tortugas Islands are protected by this area park, which can only be reached by air or ferry. In addition to the fort, guests have the opportunity to dive into the vivid coral reefs, watch aquatic life, and hear about local shipwrecks and hidden treasures.
As yet uncompleted, Fort Jefferson is one of the largest brick masonry buildings in the Western Hemisphere and a formidable coastal fortress. It served as a prison until 1874 and then as a naval base afterward.
7) Shopping In Mallory Square And Duval Street
Shopping and sightseeing are the characteristics of any holiday, and even kids will find something to their liking in Mallory Square and Duval Street.
In particular, Mallory Square is the beating center of Key West, featuring a wide variety of restaurants, shops, and stores to explore. The majority of the city's festivals and events are held in this neighborhood, which is also home to many theaters, restaurants, a key lime pie bakery, and live street performances.
Duvall Street is also worth exploring, as it is home to a wide variety of shops and boutiques, including both nationally recognized brands and independently run establishments.
8) Sunset Celebration
Sunset Celebration is an open-air market in downtown Key West that you may have never heard of if you have never been there before, but is not to be missed if you get the chance to see it. One traveler even claimed that a trip to Key West wouldn't be complete without checking it out. If you are visiting Key West with kids, you will not want to miss it, as there is something there for the whole family to enjoy.
Head to Mallory Square and join the throng for some fantastic entertainment that is all inspiring, including musicians, street performers, and a range of other colorful residents like jugglers and psychics. There will be artists presenting their creations and lots of souvenirs to select from.
9) Old Town Trolley
The Old Town Trolley is a lot of fun for kids of all ages and their parents, too! If you want to see as much of Key West's historic district as possible while visiting Key West with kids, but don't feel like driving, you may get on and off this trolley at any of its stops to explore the district at your own pace.
Tourists can get on and off the trolley at their convenience by purchasing a voucher for each passenger. Park at Mallory Square or the Key West Welcome Center and get your vouchers to begin touring the island. Seating is first come first served, and lap children are welcome.
There are around a hundred points of interest on the Old Town Trolley tours, and trolley drivers are also guides who offer passengers a local history of the island. The island's convenient trolley route includes twelve stops.
10) Fort Zachary Taylor State Park
With its well-kept beaches, coral reefs, fishing in select areas, and beachfront café, this historic state park is perfect for a family day excursion. Fort Zachary Taylor itself is a sight to see, and older kids may wander the historic barracks, parade grounds, and walkways where troops formerly marched and lived. Some even say the fort is haunted by the spirits of fallen soldiers!
11) Audubon House
Although Ernest Hemingway's house and garden on Key West are the most famous, the Audubon House and Tropical Gardens, located just a few blocks away, are stunning in their own right. The garden features a plant nursery, an herb garden, and brick walkways crisscrossed with tropical plants.
Inside, guests can take in John James Audubon paintings and other antiques. The gradual bending of wood for many of the woodwork accents and verandas, stairways, and arches is a shipbuilding technique that visitors may wish to take note of.
12) Experience Nature
If you're looking for a place to get out into nature filled with fun things to do, Key West is a great choice. Beaches aren't the only attraction here. The island's mangrove forests, tropical vegetation, and arboretums, as well as its water sports and sea life, make it well worth a visit.
Families with older children could go on a nocturnal kayaking expedition in a glass-bottom kayak to see sea turtles frolicking in the waterways around the island, or they could go on a day trip through the mangrove forests in Key Largo.
Parasailing, boat trips, scuba diving, and snorkeling are just some of the water sports available. If you'd rather stay on dry land, there are many trails to explore, such as the Truman Beach Point Trail and the Fort Jefferson loop. Even a drive across the overseas highway will give great views of the ocean and its natural beauty.
13) Conch Train
If your little ones aren't fans of the Old Town Trolley's many stops, you might want to look into the kid-friendly Conch Train. As one of the oldest tours on the island, having gained its start in 1958, this train journey has been a favorite of travelers for decades. Tour guides, or "engineers," as they are sometimes called, have driven everyone from Ernest Hemingway to former presidents around the island on this whimsical tram.
Visitors relax comfortably in a motorized train-style tram that cruises all over the island and visits most of Key West's notable sights. The Shipwreck Treasure Museum, the Key West Aquarium, the Harry S. Truman Little White House, the Sails to Rails Museum, the Ernest Hemingway Home, the Mel Fisher Maritime Heritage Society, the Key West Botanical Gardens, and Nancy's Secret Garden are just some of the places you can visit. There is also a nightly ghost and gravestones tour available aboard the train.
In Conclusion
Besides the well-known theme parks and cities of Miami, Tampa, and Orlando, Florida has a lot more to offer visitors. The Florida Keys are a wonderful destination for families with kids of all ages, thanks to their unique character, fun things to do, and rich history.
Key West is a stunning tropical paradise that offers history, entertainment, delicious food, and beach fun. It's the perfect place to take the family, and Key West's rich history is sure to delight. While kids won't find Mickey Mouse on every corner in Key West, they may still find plenty to do and see, key lime confections to gobble down, museums to visit, and wacky trains to ride.
The continental United States has much to offer, but so do its coastal regions. Contact Key West Paddle right away to schedule your next fun excursion on your trip to Key West!
---